VIETNAM ENTREPRENEUR DAY – THINKING ABOUT RESPONSIBILITY TO THE COMMUNITY AND SOCIALS
13/10/2020
75 years ago, on October 13th, 1945, President Ho Chi Minh wrote a letter to the Vietnamese Industry and Trade Circle. Up to now, in the period of international economic integration – President Ho's letter is still valid, demonstrating his correct direction and strategic guidance to asserting the role of the enterprises, entrepreneurs in country construction.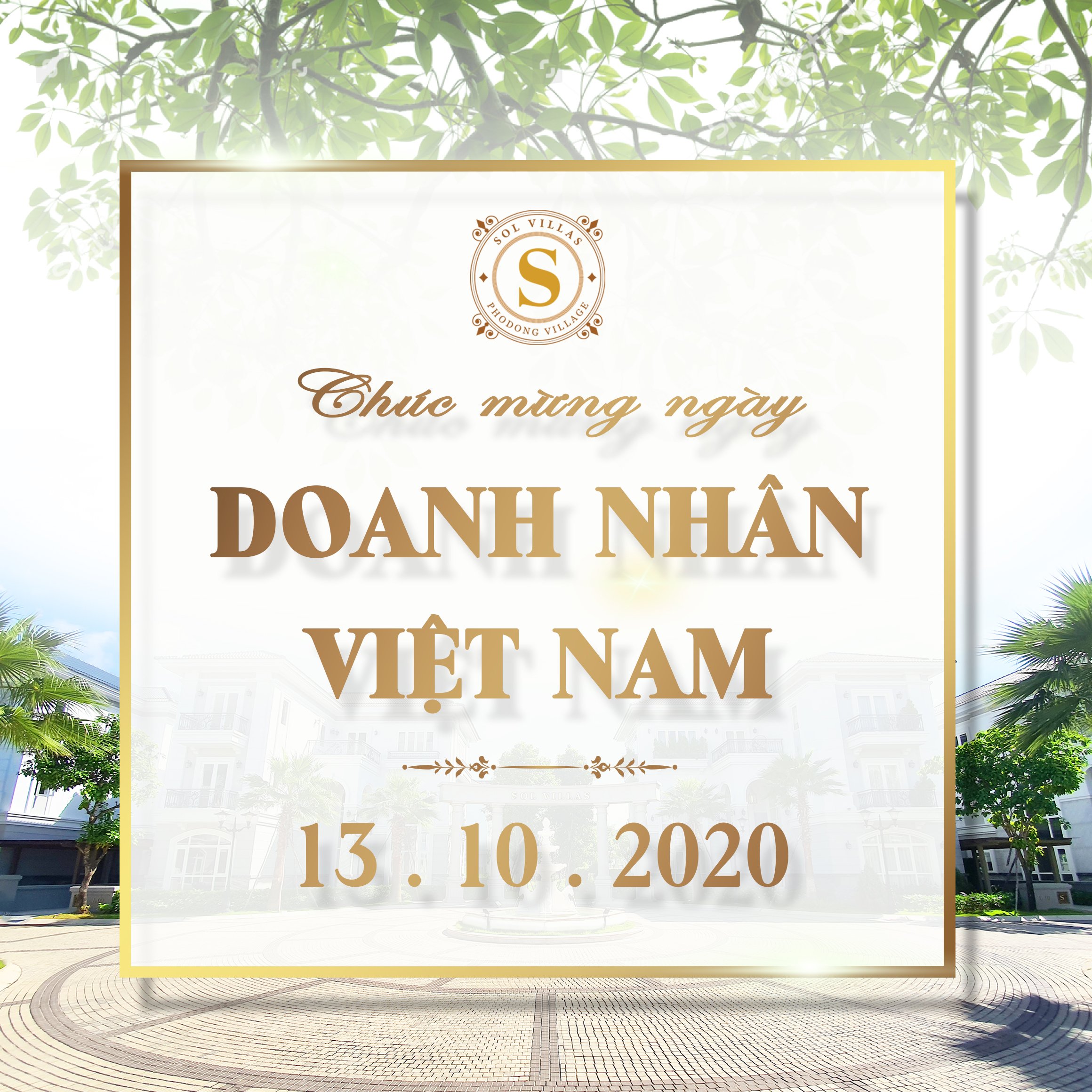 Entrepreneurs in the 4.0 era
In 2004, the Prime Minister decided to take October 13th every year as "Vietnam Entrepreneur Day", to honor the businessmen who contributed to building the country. Entrepreneurs, they are business owners who pay taxes to the state budget, create jobs for employees, and contribute to ensuring social security and economic development of the country. The team of Vietnamese businessmen is growing stronger, capable and qualified to lead and manage enterprises operating with high quality, efficiency and competitiveness, making an important contribution to the industrial nationalization, modernization and international integration of the country. Not only inspiring the startup movement among young people, the Vietnamese entrepreneurs community has now boldly transformed production and business structure into the fields of production, high technology, education and training, … to meet the requirements of the Industrial Revolution 4.0.
Entrepreneurs are not only seen as busy, successful, and wealthy people, but also powerful people, in a position to maneuver hundreds of thousands of employees. Entrepreneurs also often interact with the upper echelons of society, interact with high-ranking officials at home and abroad. Therefore, the position of an entrepreneur is the dream of many people.
However, the life of an entrepreneur is very easy to be imbalanced because of his own activities. First, the entrepreneur's health is often threatened by overwork. Health is a must for happiness, but they ignore it. Entrepreneurs easily assimilate their career with themselves. If a politician needs a ballot, the entrepreneur needs revenue and profit. An entrepreneur is a person who depends on the number, the market, on the unusual fluctuations of consumer society. Because of the pressure of success, of assimilating themselves to their careers, entrepreneurs are prone to work addiction – a kind of illness that affects the balance of society.
Vietnamese entrepreneurs in the 4.0 era are very focused on health and meditation culture
Today in the West, meditation is indispensable in the practice of life skills for many people, from business people to scientific researchers. Science has also demonstrated a positive connection between meditation and the brain. Around the world, there are many entrepreneurs who are connoisseurs of art and sports, philosophy and history. They love traveling and doing social work. Almost all have a passion for balancing work pressure. And most of the successful people their share of this is related to meditation.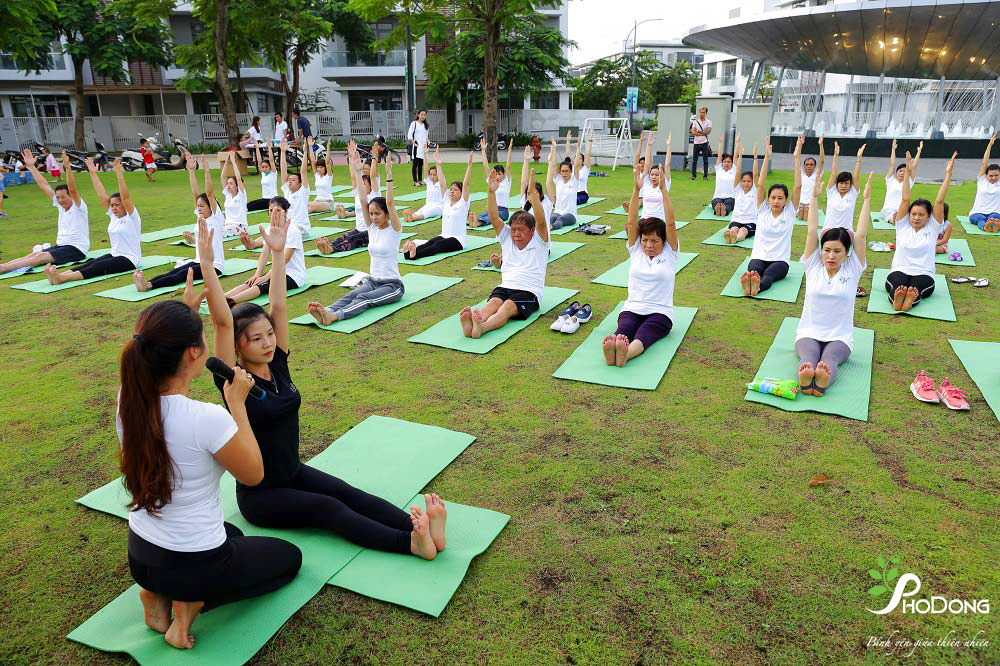 PhoDong Village residents joined the 2017 "Green Yoga" activity to balance work pressure.
Experience shows that, after the meditation period, the entrepreneur is not negligent in his work, but more active and creative, and more balanced in work and private life. The other thing is that entrepreneurs need to see their career as just one aspect of the whole person. It is only a part, even a small part of a deep life that they still have to probe to the bottom. With success, confidence, experience and wealth in hand, entrepreneurs often reach for the whole. They will make use of all their abilities, physically as well as spiritually, to be happy about life which is so vast.
Today's entrepreneurs understand something very simple: happiness is an inner feeling, it doesn't come from the outside but from the inside. The external circumstances only create conditions for the inside to react to produce happiness or suffering. The inner response varies with age, experience, and aging. An entrepreneur is a position that has come to a point in my life to find that the less you wish you would be.
Vietnamese entrepreneurs are increasingly engaged in activities for society and community
For a long time, people only go to charity when they are full of plate! Entrepreneurs go to charity, the more obvious, life is not messy about material, people also easily live more generous. Who can understand the power of money more than an entrepreneur! Who knows the full value of money more than an entrepreneur!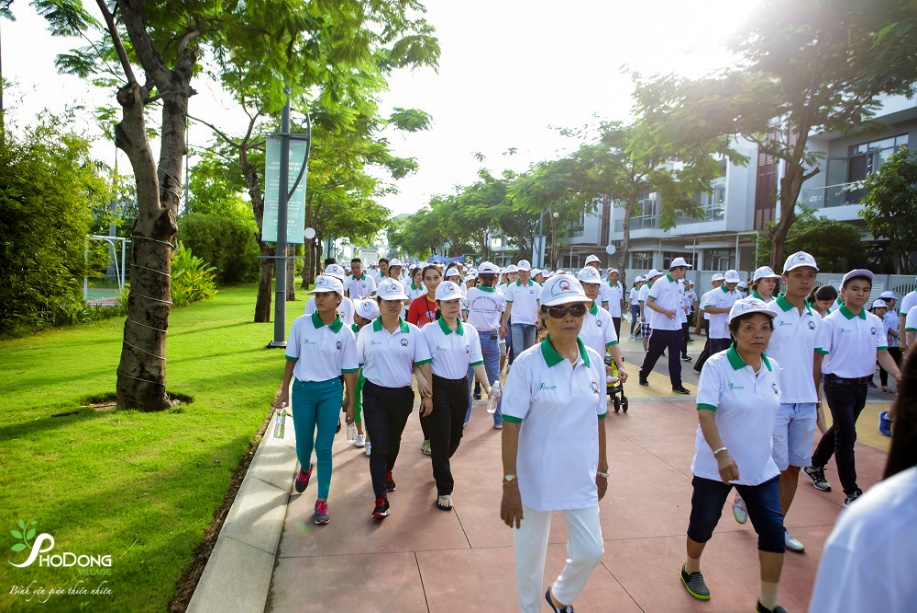 Residents of PhoDong Village participated in the community activity "Walking Together for the Poor" in 2018.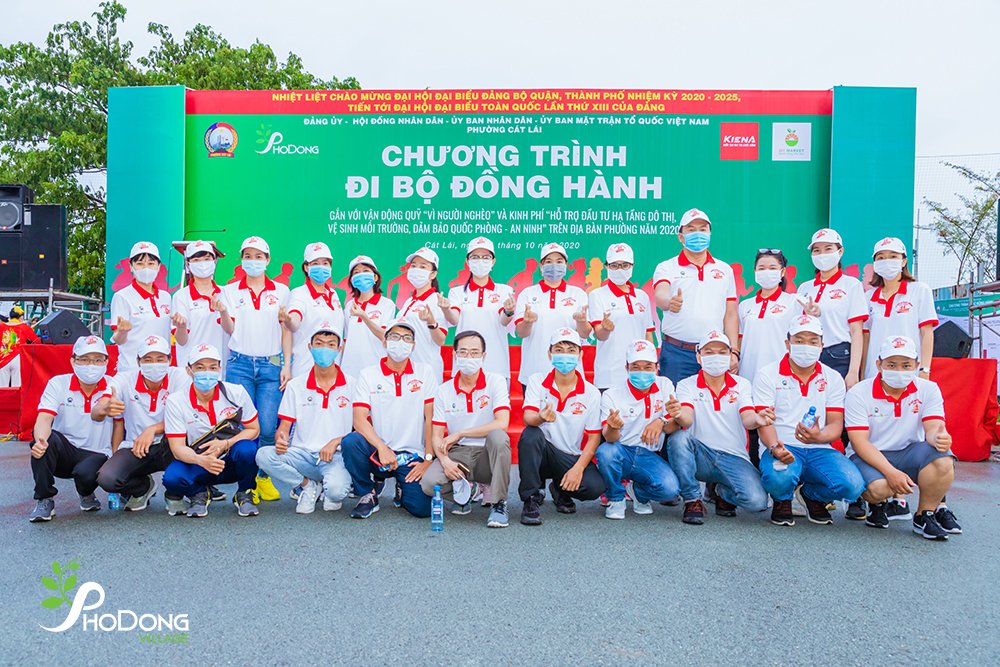 Continuing activities for the community, SCC Company kept on accompanying the program "Walk together for the poor" organized by the People's Committee of Cat Lai Ward, District 2 and Vietnam Fatherland Front Committee on October 11th, 2020.
In particular and public aspects, going to charity means bringing money or material to donate, and help others. We are used to seeing businesses do charity and put charity in their activities for the community. So familiar that no one will be surprised if they see the numbers "in the form of huge", the units calculated by hundred million are devoted to charity work by company A and company B. This enterprise builds houses of gratitude for the poor in the company's operation area. The other business gathers basic necessities, books, and warm clothes for children in remote areas. Other businesses go to visit, support for love villages or nursing homes … Entrepreneurs who go to charity have the right to be proud, they have "heart" but also "power". It is a place over their people which is also a blessing for many other unlucky identities.
The Company SCC always joins hands for "sustainable development with the community"
Corporate social responsibility is the company's commitment to contribute to sustainable economic development, through activities aimed at improving the quality of life of workers and their family members, the quality of community and society as a whole in a way that benefits both the business and the overall development of society. A business that wants to develop sustainably must have a sense of social responsibility.
Grasping the core of this inevitable development, the company SCC has the foundation of 4 core values "RESPONSIBILITY – QUALITY – CREATIVE – PRESTIGE" in its business activities, and constantly strives to show social responsibility.
Not only providing a clean and comfortable living environment to create an elite community including entrepreneurs, intellectuals, successful young people, the developer SCC also regularly organizes many community-creating programs; the cohesion and promotion of the sporty spirit of the residents such as the "Happy Living – Healthy Living" festival, the program "Experience Green Yoga with PhoDong Village" … Especially festival programs like Mid-Autumn Festival "Full Moon Reunion", "Celebrate Tet Doan Ngo with PhoDong Village", Vu Lan festival "Wish to love", Spring joy program "Reunion", Spring flower street … all help create a happy, active and civilized community.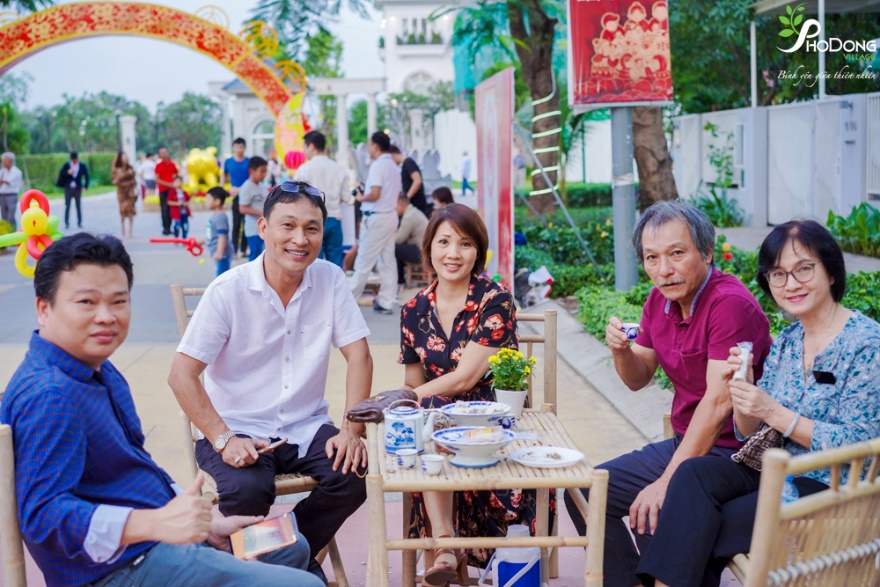 Residents of PhoDong Village enjoyed Tet tea on Flower Street at the inner street of Royal Poincinana Boulevard.
Along with powerful business projects and community responsibility programs, SCC's "CSR" activities are like charity programs that demonstrate community responsibility for the socials. The association has always been focused by the company SCC and has constantly received the contributions from the golden hearts and sponsors during the past time. Born on June 28th, 2019, so far Charity Club Warm With Love – founded by SCC Company – has turned one year-old and has now organized 29 charity programs for the community to help unhappy and difficult life pieces in life, which have been carried out for more than a year that was reported by the press and HTV9 television station, the local television stations, had positive feedback on domestic news.
Outstanding in the charity programs that the Club has carried out is "Gratitude Bowl of Porridge" which distributes rice, porridge and milk to the poor, the elderly and children at the hospitals. In addition, the club also supported to give 200 gifts to pupils overcoming difficulties and poor households in 5 communes of An Quang, An Nghia, An Toan, An Hung, An Trung; supported 34 households affected by hail, thunderstorms in Bao Yen district (Lao Cai) with the value of 102 million VND; gave 100 Tet gifts to the poor in Cat Lai ward on the occasion of Tet 2020; directly donated 30 million VND to teacher Danh Van at Cho Ray Hospital, supported to share the burden of hospital fees with Mr. Danh Van's family, helped him recover quickly to return to pupils at the school Hon Duoc (Kien Giang province).
In addition, positively responding to the Government's call and direction in the prevention of epidemics and continuously supported people in the provinces facing difficulties with epidemic prevention conditions with the program "Support for Dr. Dao Anh Quang – Hue Industry College" to prepare dry hand sanitizer for free; donated 1000 antibacterial fabric masks & 100 liters of dry hand gel to people in Binh Xuyen district (Vinh Phuc province); supported 300 million VND to buy fresh water and water tanks for people in Khanh Lam commune, U Minh district, Ca Mau province in the record of drought-saline 2020; donated antibacterial and water-resistant fabrics to the people of Ca Mau Province to sew 2,500 masks for epidemic prevention; donated VND 200 million to the Central Committee of the Vietnam Fatherland Front in Covid epidemic prevention and control COVID-19; Supported 02 tons of rice for destitute lives, lottery ticket sellers, street vendors, disabled people, the elderly and poor workers in District 2 (HCMC).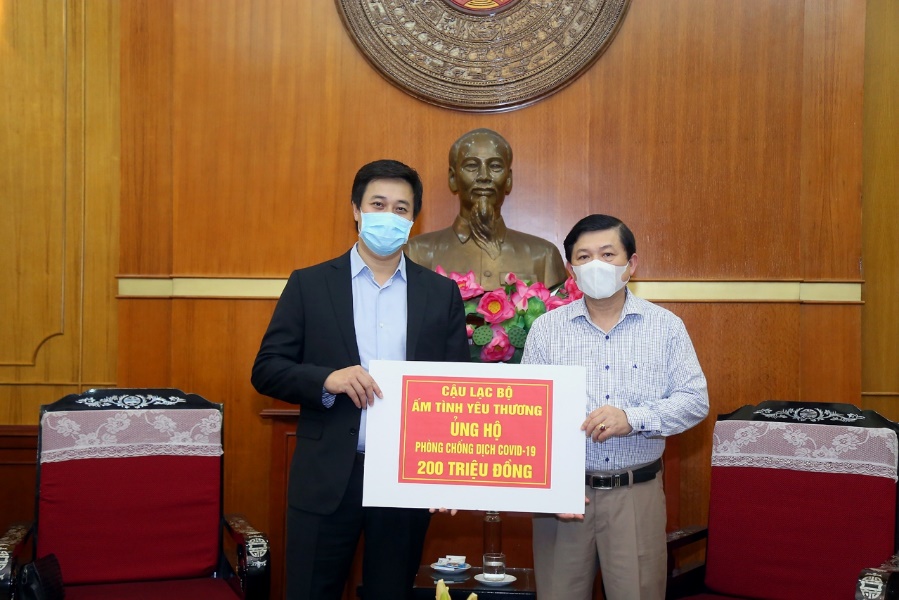 Vice Chairman of the Vietnam Fatherland Front Central Committee Nguyen Huu Dung received support from Charity Club Warm With Love.
In addition, Charity Club Warm With Love founded by SCC Company also supports the 3-month chemotherapy fee for Nguyen Dang Khoa with liver cancer, and awarded scholarships to 10 excellent pupils in the Vietnam Children's Village SOS in Dien Bien and Thanh Hoa provinces. Most recently, Charity Club Warm With Love has implemented the program "Gratitude houses for families of Agent Orange Victims" in Quang Tri and Ha Tinh provinces and continues to look for unfortunate circumstances in the locality; the developer SCC is also implementing the program "Building bridges for children to go to school" with the Tan Hiep Pipe Culvert Construction to help children in Son Hoi commune, Phu Yen province safely go to school, along with the program to build schools for children in poor mountainous districts.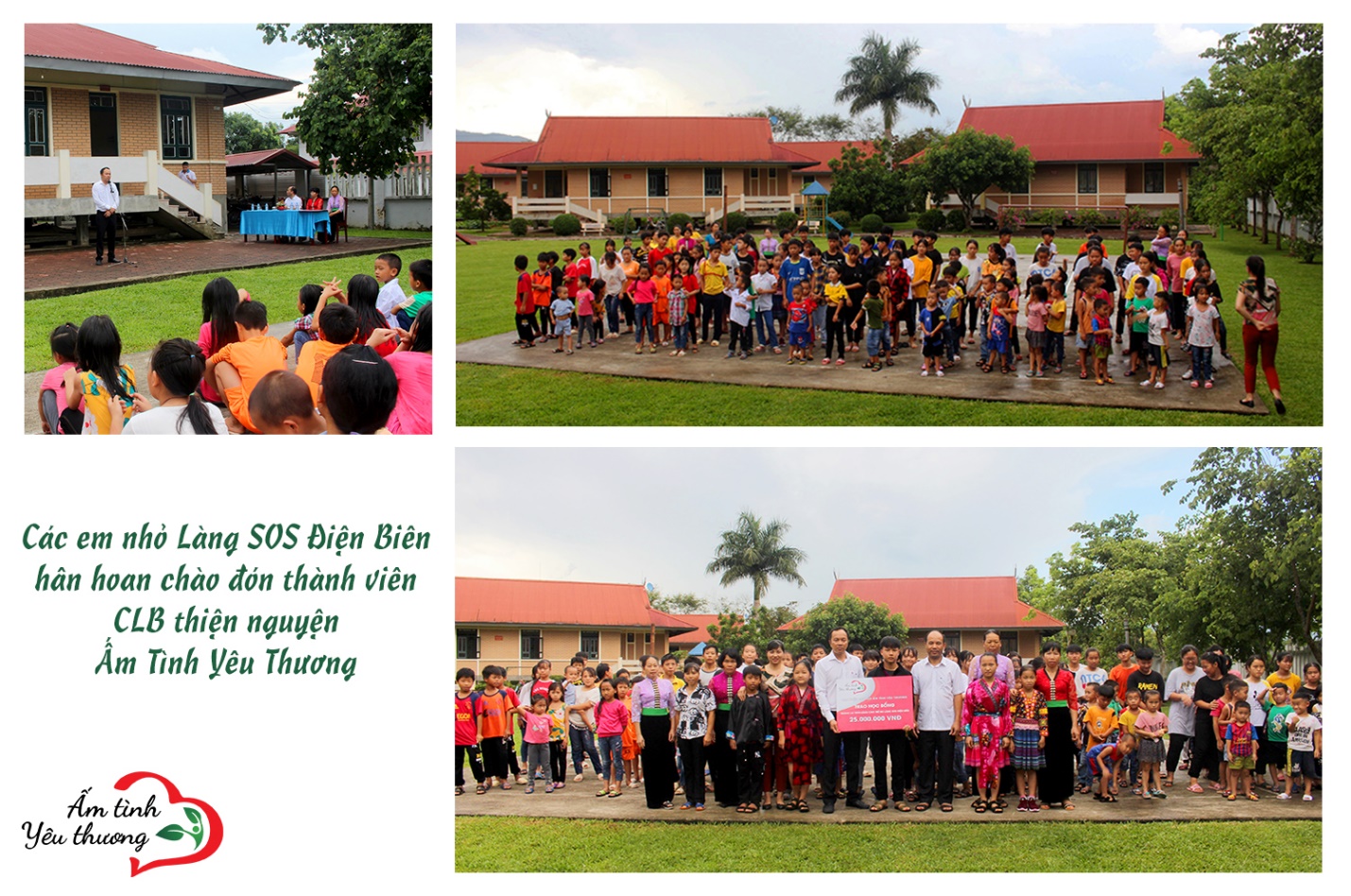 The Company SCC awarded 10 scholarships to excellent pupils in two Vietnam Children's Villages SOS.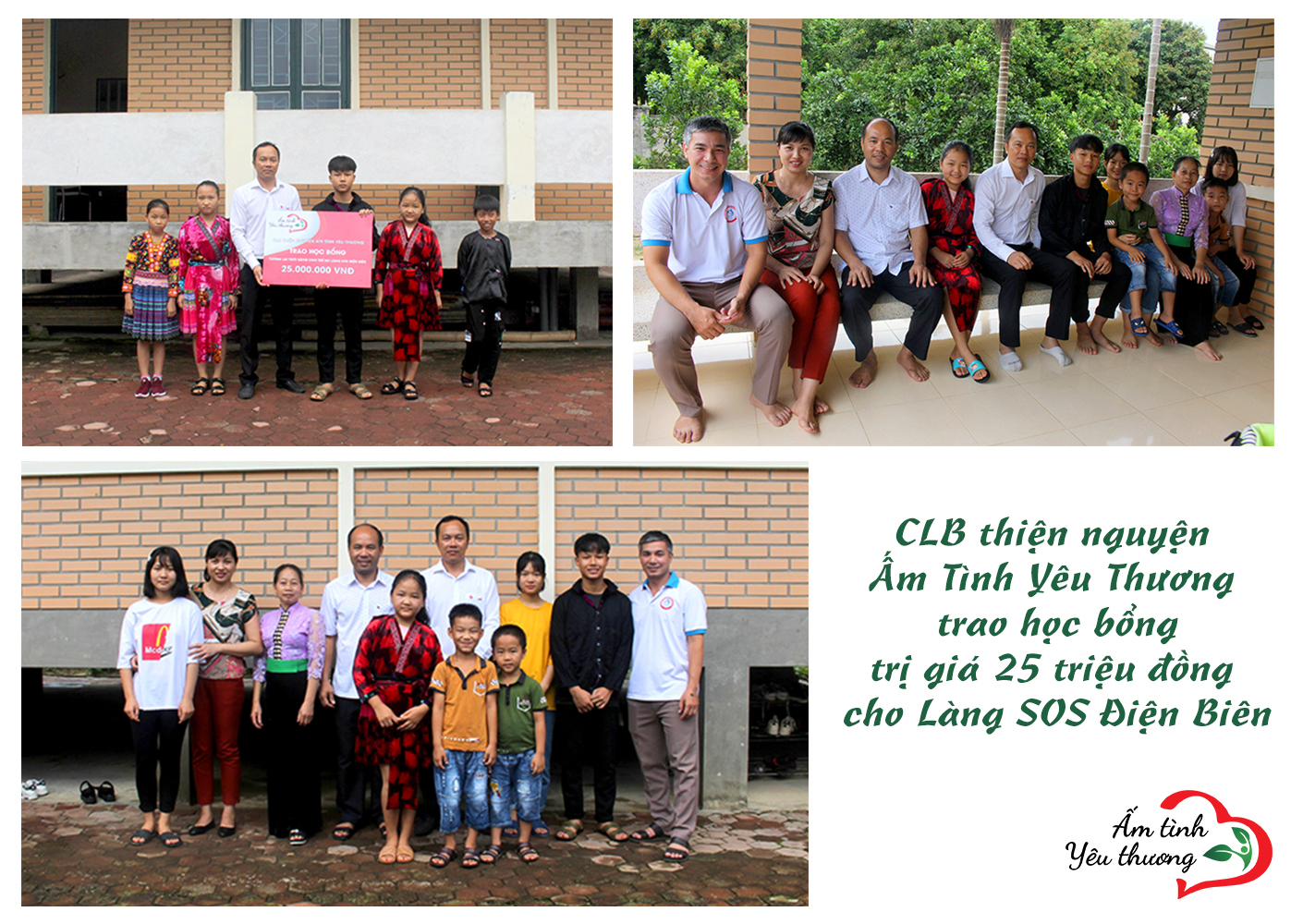 The Company SCC awarded 10 scholarships to excellent pupils in two Vietnam Children's Villages SOS.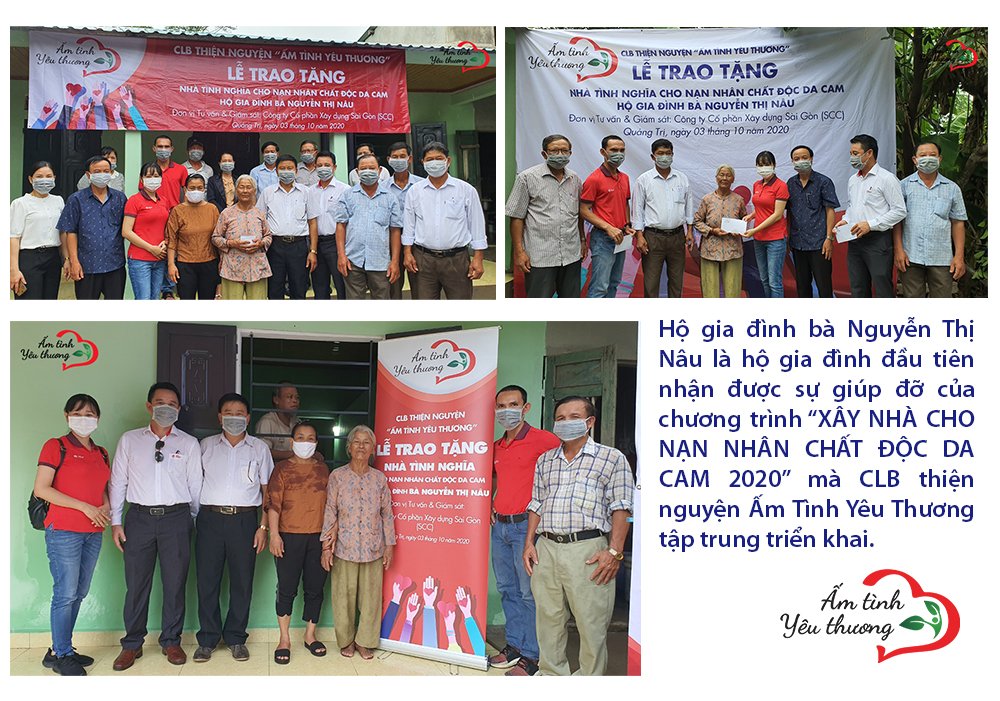 House of gratitude ceremony for victims of Agent Orange – family of Mrs. Nguyen Thi Nau in Quang Tri province.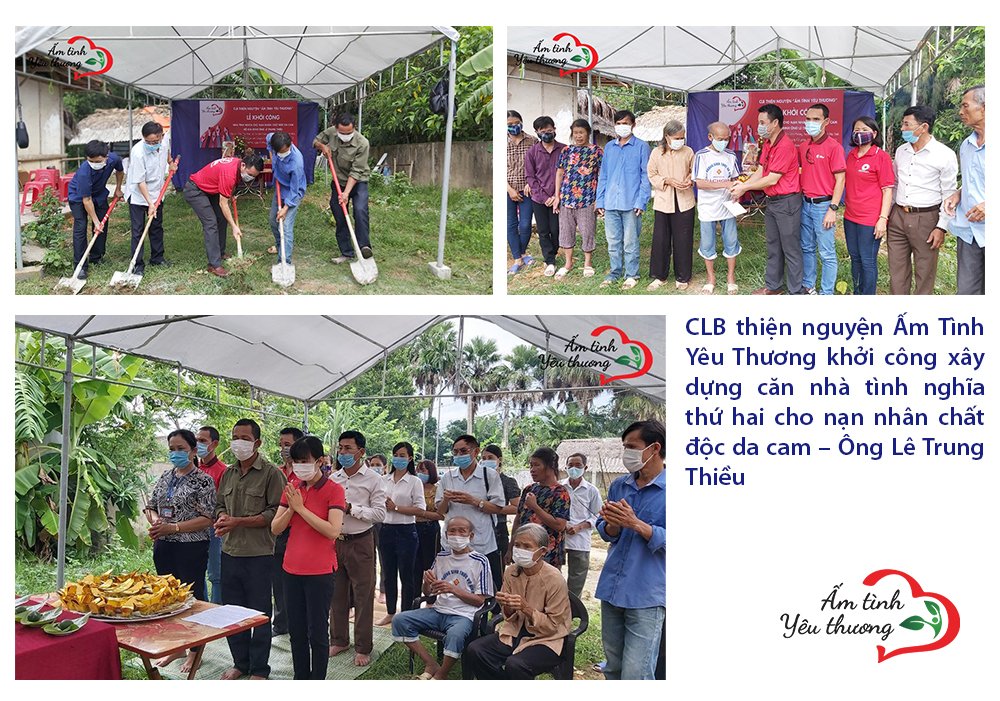 House of gratitude ceremony for victims of Agent Orange – family of Mr. Le Trung Thieu in Ha Tinh province.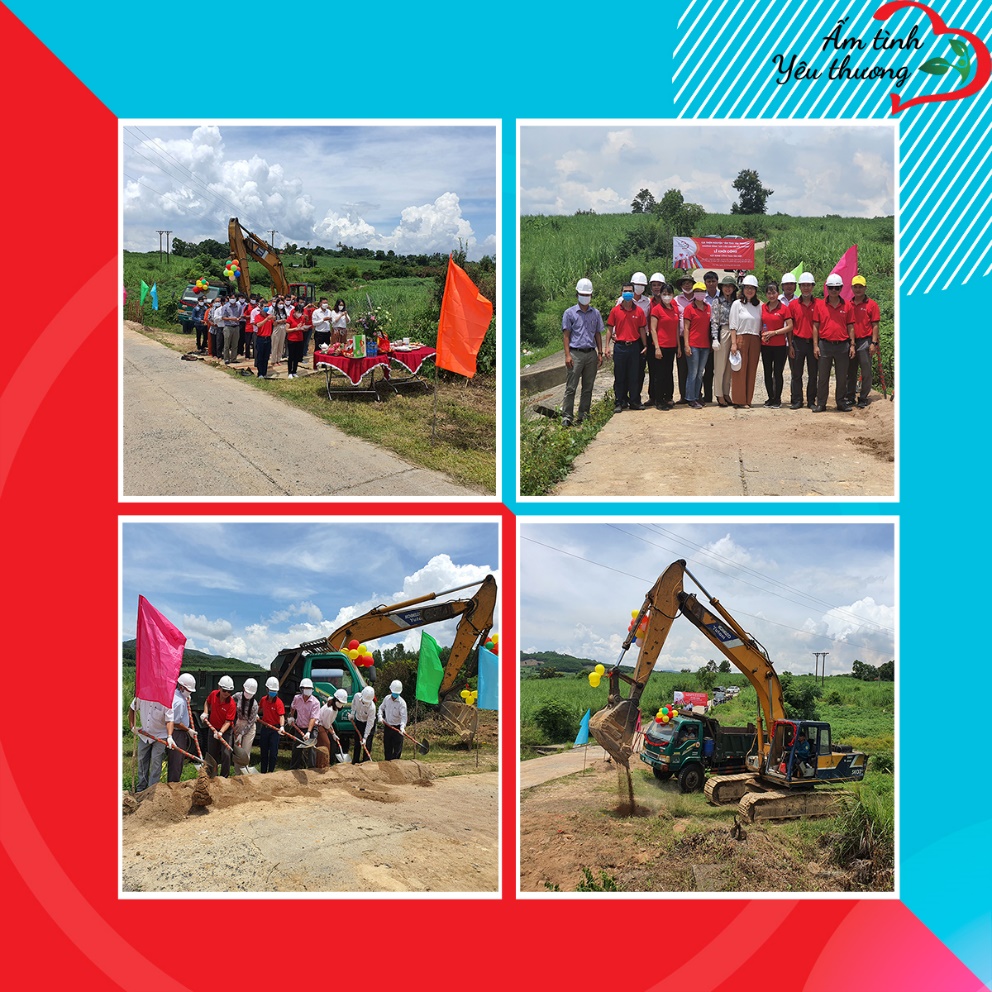 The program "Building bridges for children to go to school" with the Tan Hiep Pipe Culvert Construction to help children in Son Hoi commune, Phu Yen province safely go to school.
"The rich are not people who have a lot, but a person who gives a lot" – People often go to charity when themselves and their family have had material abundance. With SCC Company, charity comes from the heart, each individual, each leader, despite having different perspectives, in different positions, has the same spirit of "good leaves protect torn leaves" to share love.
Full of 1 year-old, the Club has implemented 29 volunteer programs in 16 provinces across the country with a total budget of more than 03 billion VND for socials. The Club would like to thank sponsors and members of the club who have joined hands to contribute funds and effort to the club's community activities.
For internal activities, the Board of Directors always pays attention to the cultural life, spirit and health of the staff. Typically in the Social distancing in the Covid-19 epidemic, SCC Company proactively predicted early, equipped with necessary hardware and software, and trained employees to prepare for the needs of working remotely, quickly adapted to only 50% of the time working at the office but still guarantee 100% benefits and salary in response to the Prime Minister's call for Social distancing and effective work.
Congratulations Vietnam Entrepreneurs Day, wish them courage, overcome difficulties, and reap success
Being an entrepreneur has hundreds of thousands of jobs, everything comes from meeting partners, to meeting reports, and time with family … Being an entrepreneur means sacrificing many things like personal, private life for work. However, a successful entrepreneur is someone who can balance his life, steer his business and lead his teammates. And to become a successful entrepreneur, don't exhaust yourself or force yourself to make choices.
As Mr. Tran Viet Anh – General Director of SCC – once shared, "There are always four types of temperament "Quality" in a person: hot-tempered, flexible, calm, and thoughtful. And these four gases are always unstable. However, there will be 1 "outstanding" aura, and it also determines a person's "official" aura or temperament. In management activities, the leader needs to understand the temperament of those below. This is very important. Because when the leader understands the temperament, they will use the subordinate more effectively."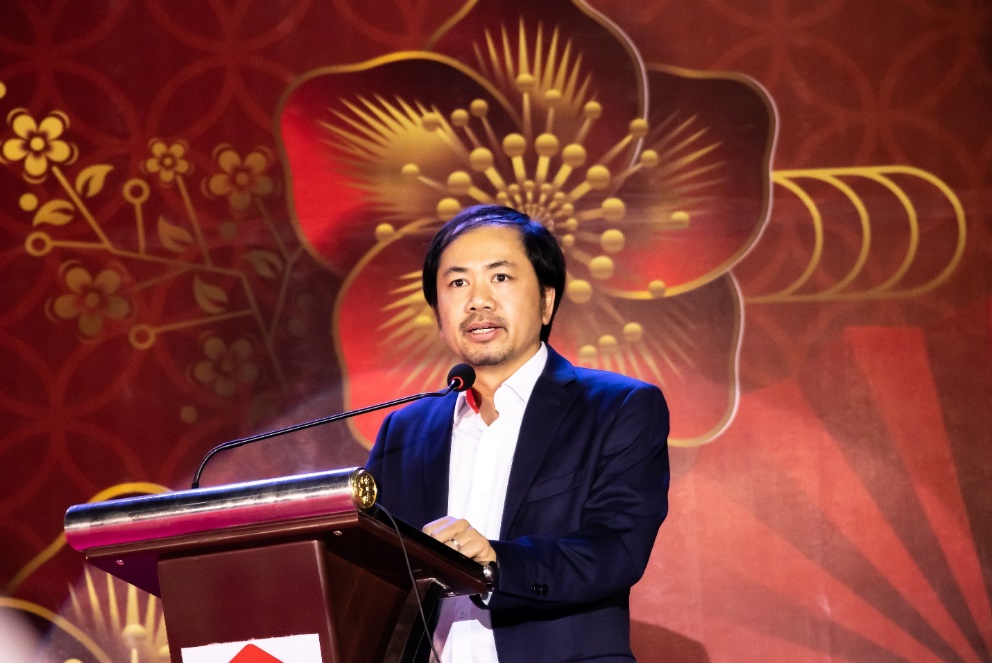 Mr. Tran Viet Anh – General Director of SCC Company shared about the meaning of "QUALITY" in the Eve Gala.
And so, an enterprise that wants to develop sustainably also needs to create its own "temperament", and that temperament of the business is also a "quality" that shows its vision, expectation and belief, unanimity of the entire large family.
Take time for yourself every morning to wake up, spend more time relaxing and relaxing before starting work. Read books, listen to advice from great people ahead to form better habits for your career. And set a minimum of family time and stick to that rule strictly. Be as devoted to your family as you would when running a project that will determine the survival of your company. If your family is precious, if you work hard for relatives and community, let them stand by, accompany, and support you in life. Because they are the solid fulcrum to help you develop your career, set achievements in both work and position in society.
On the occasion of Vietnam Entrepreneur Day, we would like to send our best wishes and hope that all entrepreneurs are always healthy to build a stable and prosperous economy for the country.
SCC.