SCC OFFERED NEW YEAR GIFTS TO AGENT ORANGE VICTIMS IN THREE PROVINCES: CA MAU, BAC LIEU, AND SOC TRANG.
07/01/2020
On three days (3rd to January 5th, 2020), Saigon Construction Corporation (SCC) has accompanied the program "New Year For Agent Orange Victims in Vietnam" of the second year to visit and give Tet gifts to the victims in three provinces: Ca Mau, Bac Lieu and Soc Trang.
Joining the organization committee, besides the leadership of the local government, there are also Lieutenant General (three-star General) Nguyen Van Rinh, Former member of Central Committee of the Communist Party of Vietnam, Former Vice Minister of Defense, Chairman of the Vietnam Association for Victims of Agent Orange/Dioxin; Colonel Tran Dinh Dich – Chief of Editor of Vietnam Agent Orange Magazine; Mr. Phan Ngoc Huy – Deputy Director of Project Management Board of SCC and representatives of businesses, sponsors.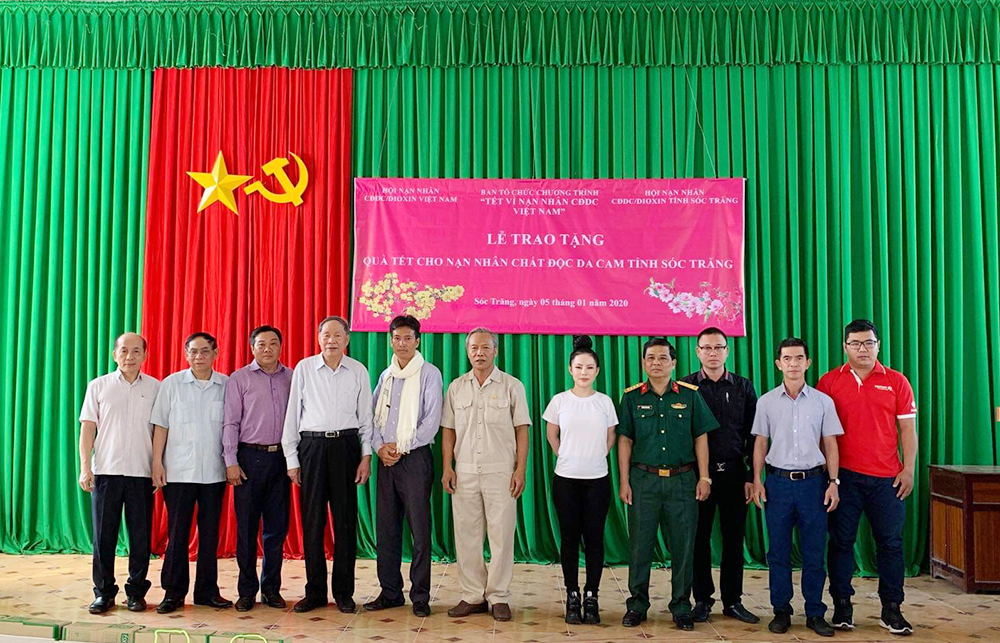 Mr. Phan Ngoc Huy – Deputy Director of Project Management Board of SCC (the 2nd person from the right) with the organization committee and the leaderships of Soc Trang Province in the gift giving ceremony
The war has passed for more than 40 years but has left enormous consequences for the Vietnamese people, including the pain of Agent Orange. That pain still lingers over the years, through the generations.
In order to help alleviate that pain and support the living conditions for Agent Orange victims' families, SCC coordinated with the program "New Year For Agent Orange Victims in Vietnam " to give Tet gifts as a share of difficulties with the expectation that these families will have a Tet full of love.
Mr. Phan Ngoc Huy – Deputy Director of Project Management Board (first person on the right), representative of SCC Company presented Tet gifts to victims of Agent Orange in Ca Mau Province
This meaningful program is also an annual activity of SCC. With the mission of "Sustainable development with community", SCC Company always actively accompanies many charitable programs such as building schools, building bridges, awarding scholarships, supporting difficult circumstances across the country to enhance the responsibility of their businesses to the community and society, embodying the Vietnamese tradition of "The spirit of solidarity", "The good leaves protect the worn-out leaves ".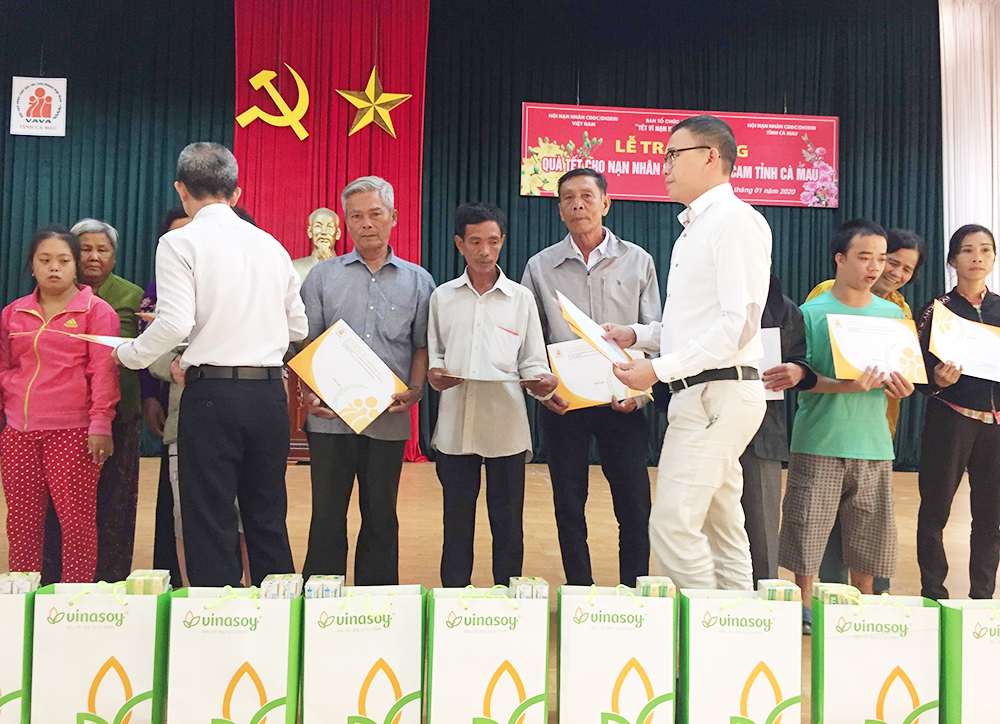 The program "New Year for Agent Orange Victims in Vietnam" in Ca Mau province
At the gift giving ceremony to the families of Agent Orange victims at the Social Protection Center of Soc Trang Province, Mr. Phan Ngoc Huy – representative of SCC said: "SCC hopes that these small gifts will bring some joy to victims' families and there will be more organizations and individuals, not only in Vietnam but also in the whole world, will join the program."
According to the announcement, from January 1st to 12th, 2020, the Vietnam Association of Victims of Agent Orange/Dioxin, together with the Organization Committee and donors, visited and presented gifts in 13 provinces and cities: Ca Mau, Bac Lieu, Soc Trang, Dak Lak, Dak Nong, Lam Dong, Vinh Long, Tra Vinh, Dong Thap, Hau Giang, Ha Nam, Thanh Hoa provinces and Ha Noi city. Each place has received 50 portions (included 1,000,000 VND in cash and a gift worth 150,000 VND).
After that, the program organizers will visit and give gifts in some more Northern provinces. The total value of Tet gifts for Agent Orange victims in this program reached nearly 1,000,000,000 VND. The organizers will hold a ceremony to honor and thank the golden hearts that have accompanied the program. The ceremony will be held in Hanoi Capital and will be broadcast live on Vietnam National Assembly Television Channel and broadcast Vietnam National Defense Television Channel and Hanoi Radio and Television Broadcasting at 20:00 on January 15th, 2020.
SCC