SCC HAVING HANDED OVER 1ST PHASE SOL VILLAS AT THE COMMITTED TIME
04/11/2019
On October 26, 2019, at PhoDong Village urban area, Saigon Construction Corporation (SCC) – the investor of Sol Villas high-class compound held a ceremony to hand over the 1st phase high-class villas in Sol Villas compound to customers on schedule.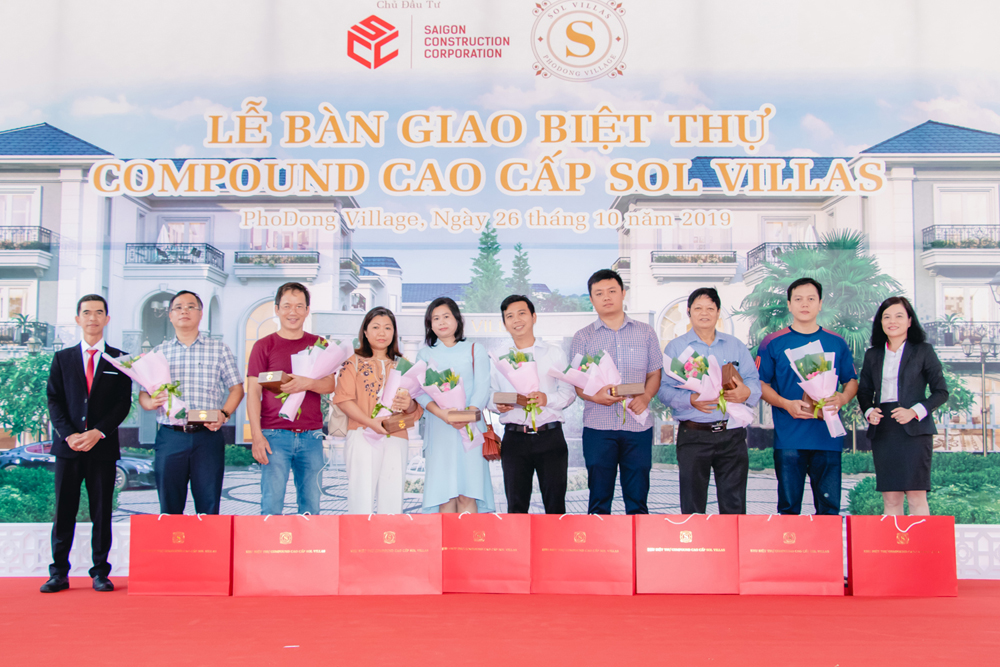 Residents receiving gifts and villa keys from the investor
Sol Villas is a high-end compound in District 2. Covering an area of 4.5 ha with closed planning, synchronous and modern infrastructure, the compound provides 101 high-end villas to the market.
Each of the Sol Villas is a masterpiece of unique neoclassical architecture with architect Thierry Van De Wyngaert, the former President of the French Academy of Architecture as the design consultant. The neoclassical architecture style of these villas is the lead in the trend of classy and timeless architecture in many developed countries around the world.
Not only exhibiting luxurious beauty, aristocratic, majesty and spacious style, Sol Villas are also designed to bring superior function with many windows, natural ventilation, creating a balance with outdoor temperature. Remarkably, Sol Villas allows owners to change the function of the common and private spaces up to their preferences without having to change the infrastructure.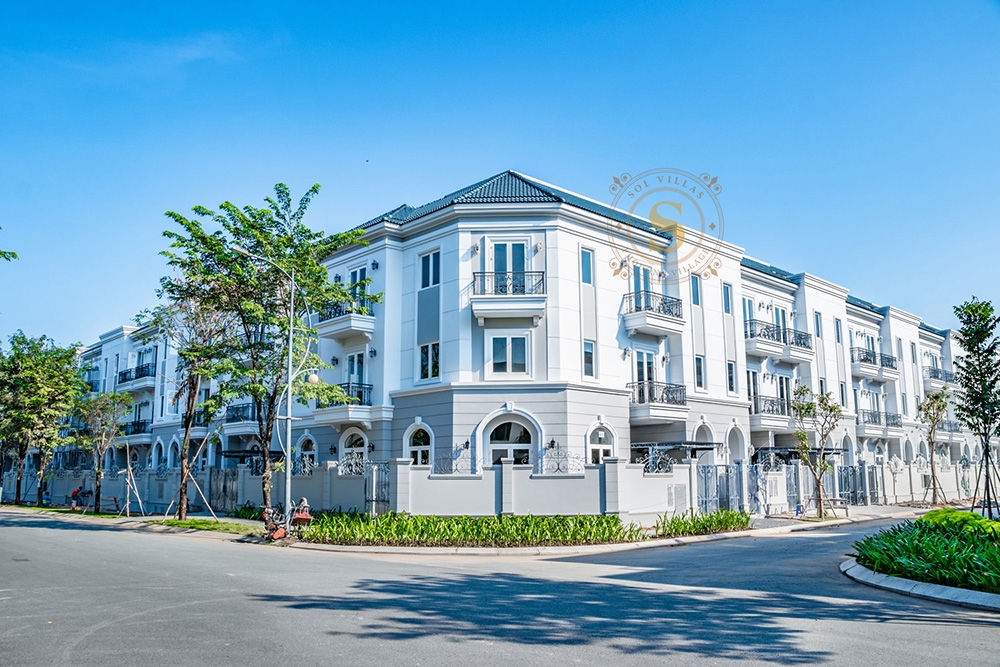 Owning those multi-million dollar villas, the owners have the privilege to enjoy the dual utilities of both Sol Villas compound and PhoDong Village urban area. The 4-star utility system with 2,300 square meters park and separate swimming pool, 24/7 security system, multi-purpose sports ground, gym, sauna, clubhouse, kid room, nursing home, schools, supermarkets, cafes, beauty salons, etc. are always available to serve all and every needs of sports, entertainment and relaxation for the upper-class community.
With the desire to create a green living space in PhoDong Village urban area, SCC has devoted most of the area to landscape development. Twenty-four intra-area roads are embellished with over 17 kinds of flowers along with 03 central parks, 06 surrounding parks and a 2 km riverside park along the length of the urban area, bringing to the residents a peaceful living environment, harmonizing with the green fresh nature all year round.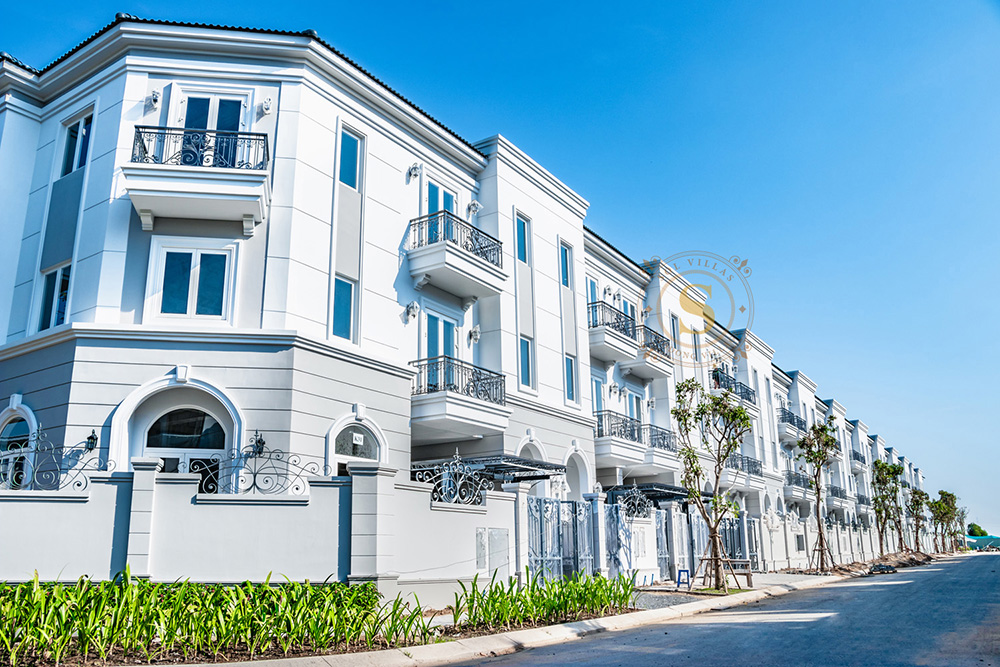 Located at a golden position of Cat Lai residential area, Sol Villas inherits multiple advantages from the transport infrastructure in District 2 in particular and the East area in general. From Sol Villas, it only takes about 10-15 minutes to get to District 1, District 3, District 7 and surrounding areas such as Metro An Phu, Big C and Parkson supermarkets, Rach Chiec Sports Complex, Hospitals of District 2, FV and Tam Duc and public and international schools such as Saigon Star, AIS, SIU, etc.
Sol Villas high-class compound was commenced on July 20, 2018. Over the past year, SCC has made great efforts to ensure its commitment to hand over the villas on schedule. This once again affirms the prestige of the Investor with its customers.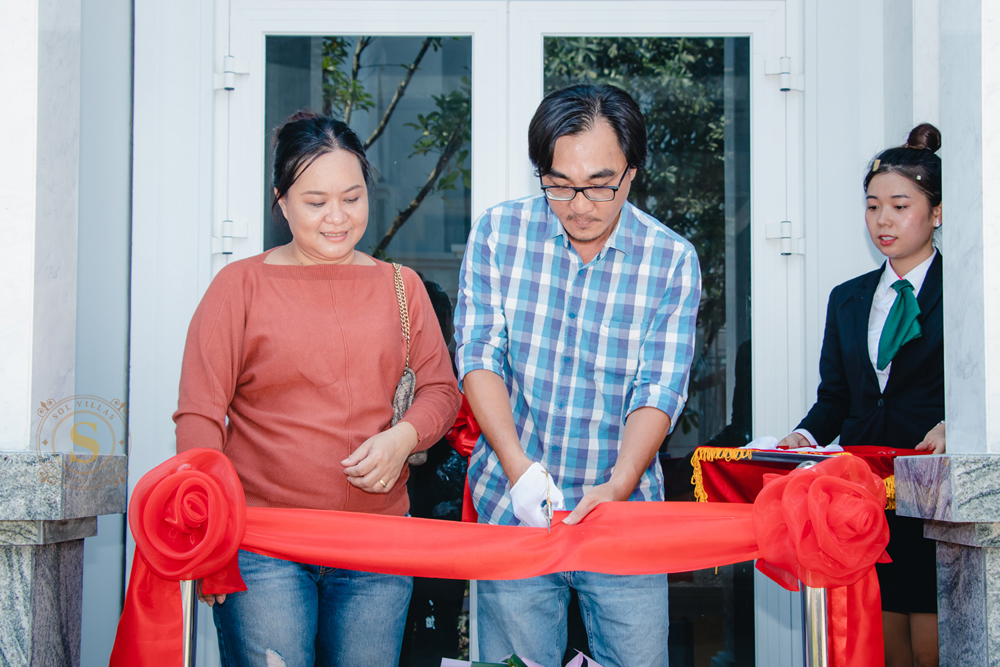 Owners of the villas receiving Sol Villas
During the handover ceremony, representatives of the Saigon Construction Corporation (SCC) presented gifts and handed the keys to the owners of Sol Villas and accompanied each owner of to their villas for ribbon-cutting and officially handing over the villas. In addition, the Investor also presented 2 vouchers for a 3-day and 2-night stay at 4-star hotel Fleur De Lys Quy Nhon in Binh Dinh to Mr. Tu Khanh and Ms. Nguyen Thi Kim Thanh who luckily won the Second Prize. Especially, the first prize – a Vespa LX 125 – was given to Mr. Ly Kien Khuong – also one of Sol Villas's owners.
We believed that the first residents of Sol Villas compound will experience a superior utility system in a luxurious and aristocratic space with high-class lives that appropriate to their class.
Reference: vietnamfdi.vn