SCC – 20 YEARS FOR ONE FAITH
01/10/2019
The year of 2019 is a milestone in the 20-year journey of establishment and development of Saigon Construction Corporation (SCC). The path that we have been walking for 20 years is fully covered with pride, faith, and incredible willpower and efforts, which indeed contribute to the breakthrough and booming growth of SCC tradename.
Historical milestones
On September 28th, 1999 in the pristine land of Tan Tao Industrial Park of Binh Tan District, SCC Company was founded under the enlightenments of Mr. Dang Thanh Tam and Ms. Dang Thi Hoang Phuong. From its early days, SCC specialized in the construction of transport infrastructure, industrial and civil projects, road and bridges, and also factory and warehouse leasing.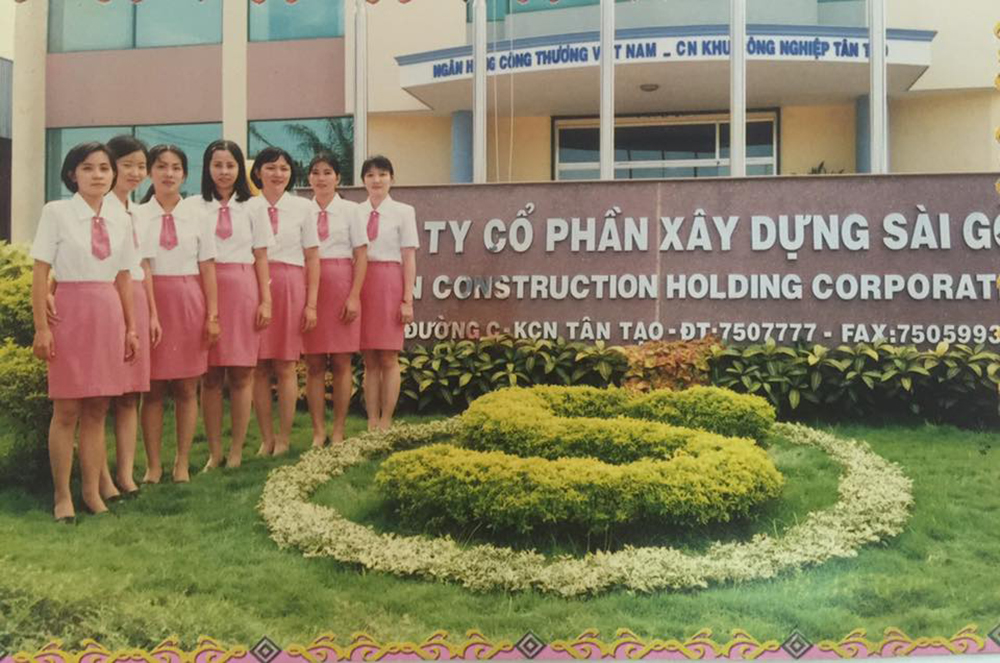 The headquarters of SCC in Tan Tao Industrial Park
Surviving countless obstacles during the first days of establishment, SCC has finally affirmed its prestige and potential, continuously diversified its business areas with the launch of innumerable outstanding projects such as: Ham Tan – Binh Thuan tourist resort established in 2002 with the scale of 183 hectares, located in Lagi, Binh Thuan; Saigon SunBay project, the largest project using modern polder construction technology in Vietnam, established in 2007; The Song project in the Da Nang coastal city, 2012; 4-star hotel Fleur De Lys with the groundbreaking ceremony held in 2012, with the scale of 20,655 m2 of construction floor, 17 floors and 200 rooms; the birth of PhoDong Village urban area in 2014 after the remarkable success of the "52 days and nights" campaign, and the launch of Sol Villas high-class compound villas in 2018.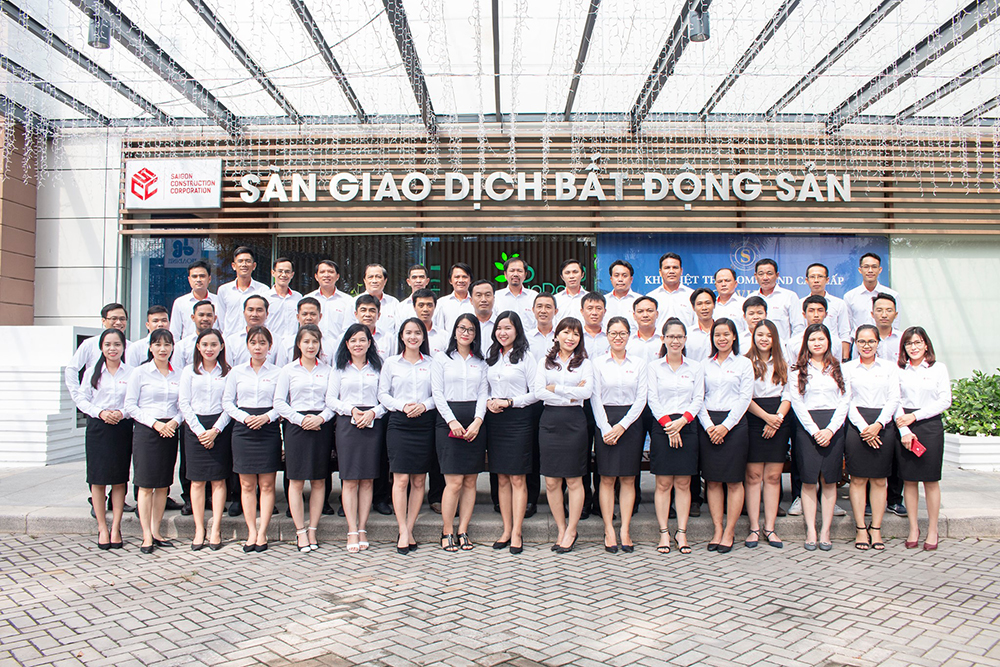 SCC Company's staff at the office of PhoDong Village Urban Area
Furthermore, the exceptional evolution of SCC was also marked by the introduction of its member companies, such as Saigon Manufacturing and Trading Corporation (SMC) in 2002; Saigon – Kinh Bac Construction Corporation (SKB) in Que Vo Industrial Park, Bac Ninh province in 2003; Saigon Quy Nhon Mining Corporation (SQC) in Binh Dinh province in 2006; Vietunion Online Services Corporation (VietUnion) in 2008; Platinum Living Corporation (PLC) in 2012; and SCC Investment Corporation (SCCI) founded in 2017.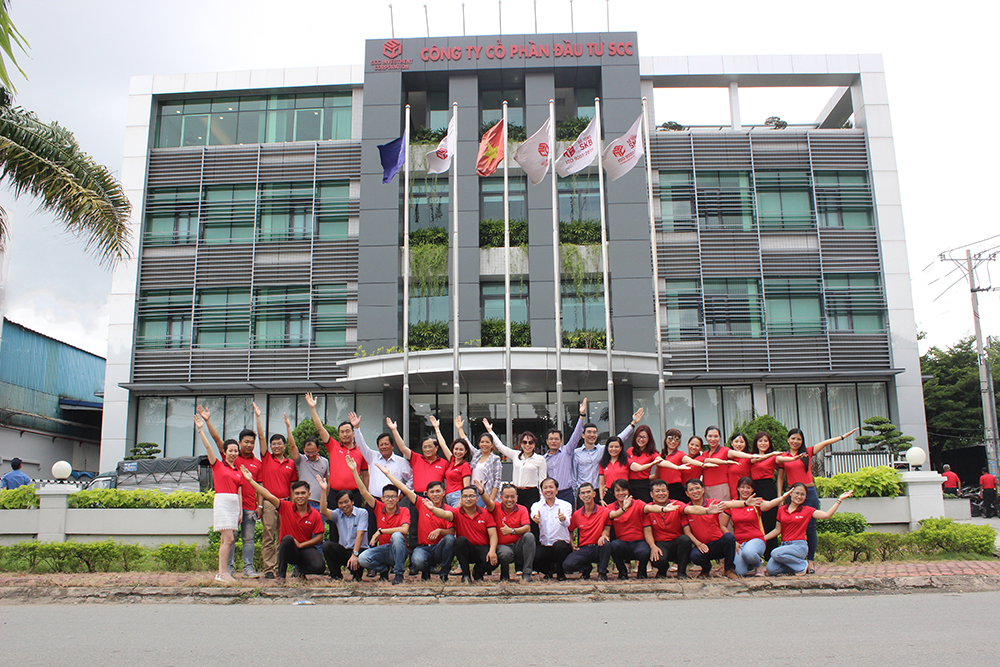 The headquarters of SCCI Company
Noble achievements
Despite confronting tons of struggles and challenges, owing to the keen faith and internal resources, SCC has made great strides and achieved scores of remarkable achievements. In 2009, the brand of SQC reached out from the border of Vietnam for the first time, acclaimed as the biggest and most modern slag plant in Southeast Asia. SMC, initially having only a small concrete batching plant and mainly supplying concrete for SCC's projects in Tan Tao Industrial Park, so far has developed into four concrete plants, including SMC Thu Thiem, SMC Tan Tao, SMC Tan Kim, SMC Tan Do, becoming the first-rank concrete brand in Ho Chi Minh City and the second-rank throughout the whole nation, with the output of 1,000,000 m3 in 2018. Also in 2018, SKB made a breakthrough in both output and revenue, with two concrete stations with the capacity of 120 m3/hour and the output of 290,000 m3. SKB is proud to be trusted by large domestic and foreign corporations, chosen as the supplier of concrete for multiple crucial projects.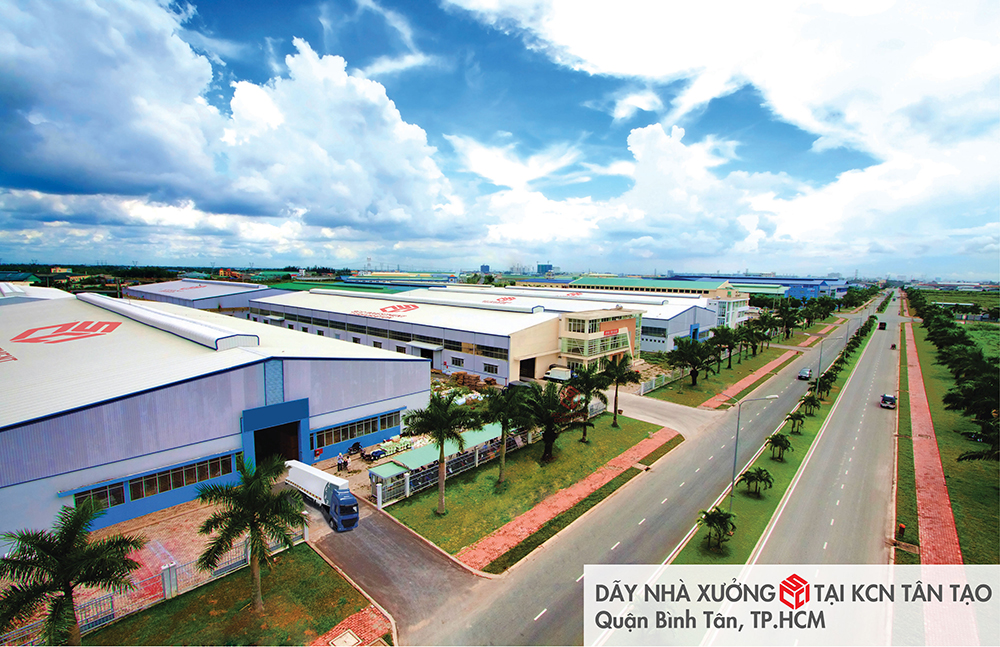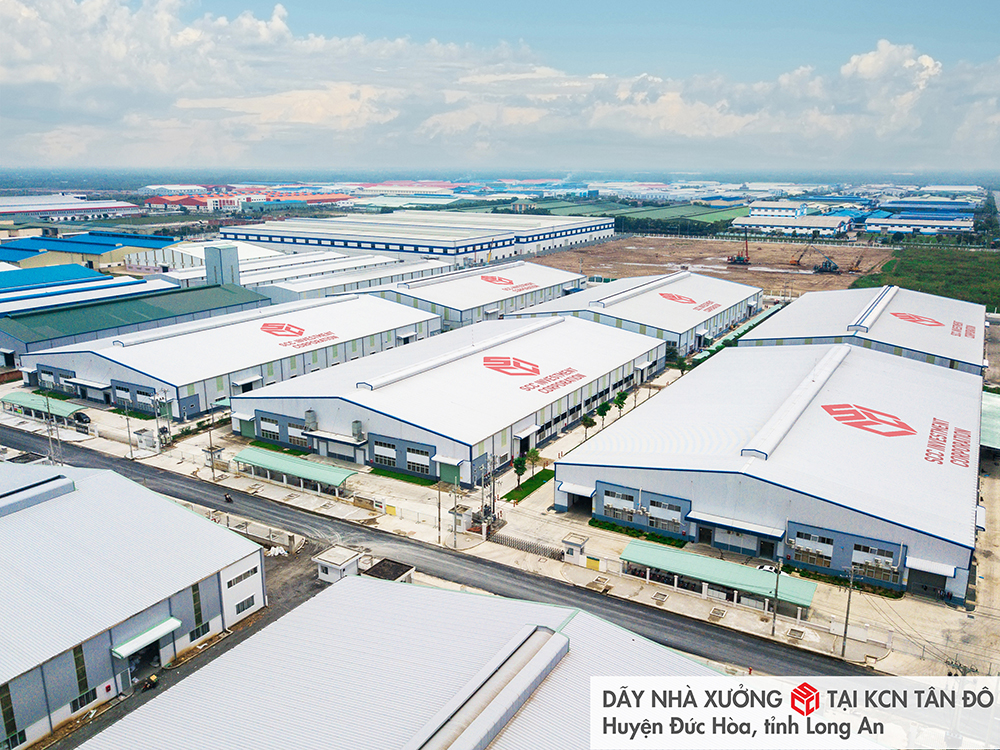 Never intending to halt, SCC continues to record accomplishments in the field of online payment. After nearly 11 years of development, VietUnion's Payoo e-wallet has now affirmed its position as one of the market leaders. As of early 2019, the total transaction value through Payoo reached approximately 3 billion USD/year. In addition, SCCI is currently the owner of 520,000 m2 of industrial land, leasing nearly 200,000 m2 of office buildings and workshops in several industrial parks in Ho Chi Minh City, Long An, Can Tho and neighboring provinces. SCCI is walking its way more and more steadily on the path of conquering new investment projects, promising a brilliant and sustainable future. The success of PhoDong Village urban area and Sol Villas has once again become the dignity of the whole SCC.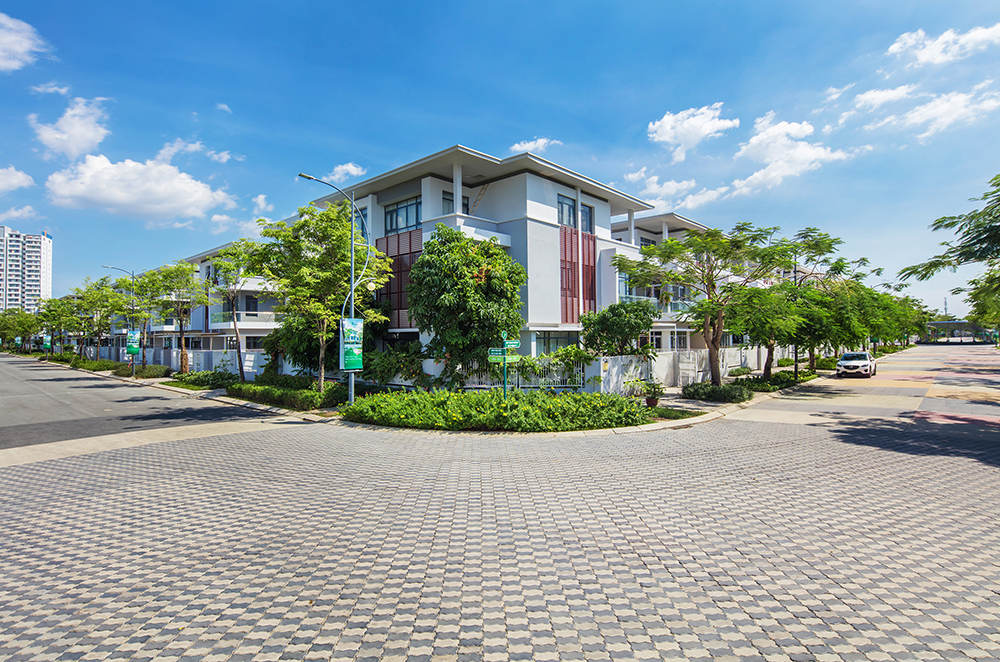 PhoDong Village urban area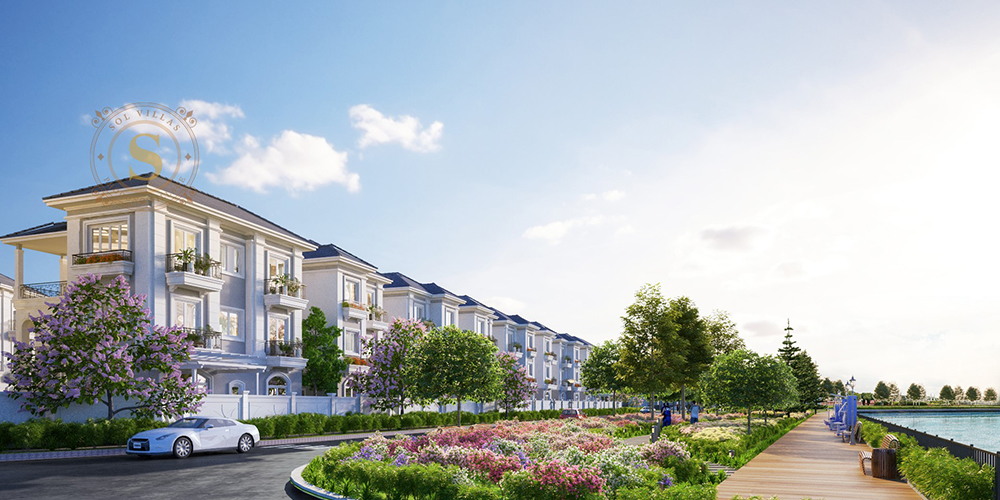 Sol Villas high-class compound villas
Honored by prestigious awards
With the motto of "sustainable development together with the community", SCC always upholds its core values of "Responsibility – Quality – Innovation – Prestige", creating high-class, sophisticated projects, with outstanding quality and optimal services and utilities. Confidence with the experience and enthusiasm its staff have accumulated throughout the years of growth, SCC has continuously achieved countless prestigious titles and great awards such as: PhoDong Village – The best housing project in Southeast Asia 2015; Gold medal for the Quality of Works and Construction Products of Vietnam; recognized as a Typical Saigon Enterprise in 2011; Vietnam Strong Brand in 2010 – 2012 – 2013; SCC – Top 50 Leading brands in Vietnam; Top of the list of "Consumer Choice Brands 2016"; Top 10 of Trusted Brands and Trademarks in 2018; Vietnam enterprises with a sustainable development 2014 and Prestigious Brand 2014 voted and awarded by GlobalGTA (EU) in collaboration with the Vietnam Enterprise Institute; Quality management under international standard ISO 9001:2008 certified by WQA (United Kingdom), etc.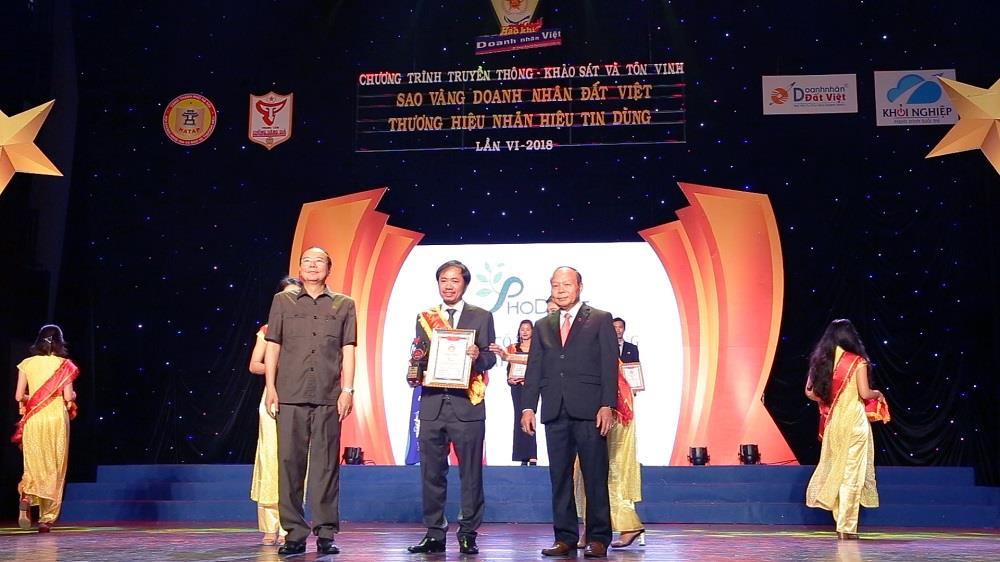 Mr. Tran Viet Anh – the Director General of SCC receiving an award
Not only focusing on its business, SCC also strives to perform its social responsibilities, paying attention to the community through charitable activities, actively accompanying the locality in particular and the whole country in general in multiple programs for the poor, supporting victims of Agent Orange and disadvantaged families, building schools, awarding scholarships to poor students across the country, etc.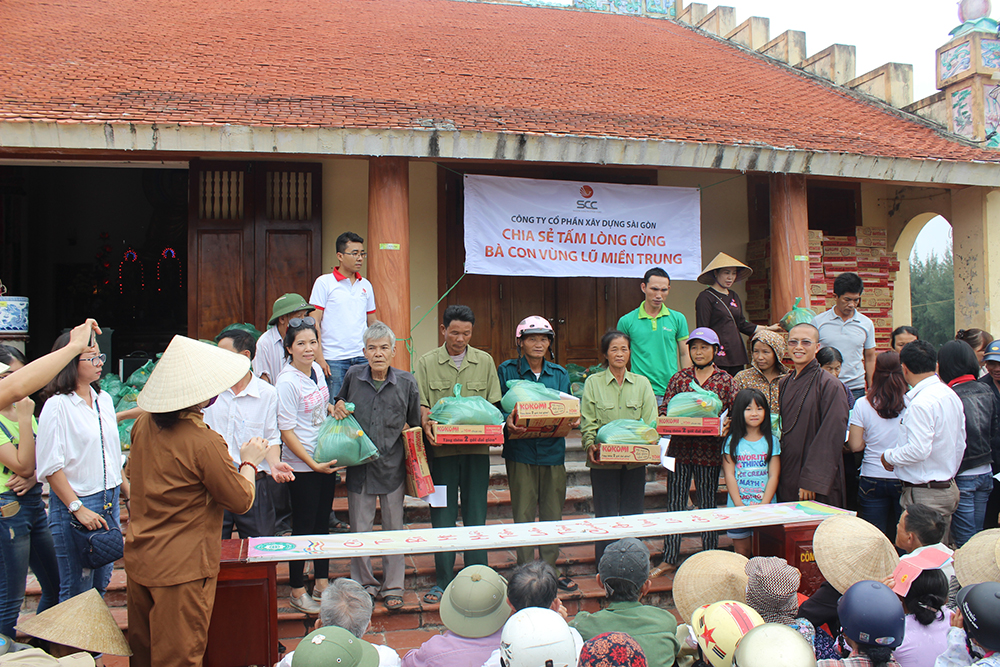 SCC presenting gifts to the people in the flooded areas in Central Vietnam
Reflecting on the past 20 years, it was a journey full of difficulties and pride of SCC team and its member companies. 20 years for one faith, for today and tomorrow with firm steps leaning on the unceasing faith.
SCC