PHODONG VILLAGE HONORED TO RECEIVE THE GREEN AWARD 2019
11/01/2020
Live "green" – a proven global lifestyle trend with many benefits – but in Vietnam, there are not many "green" real estate urban projects which fully meet international standards and are clearly certified.
From "Model Green Urban Area"
SCC has contributed to change the face of East Ho Chi Minh City with two high-end projects: PhoDong Village urban area and Sol Villas high-class compound villas. Built on a scale of more than 41 hectares, located at the gateway of East Saigon, near District 2 administrative center, about 500m from My Thuy intersection, easy to move to the city center and neighboring districts, PhoDong Village and Sol Villas have helped SCC have outstanding advantages to create a typical luxury real estate products in Ho Chi Minh City.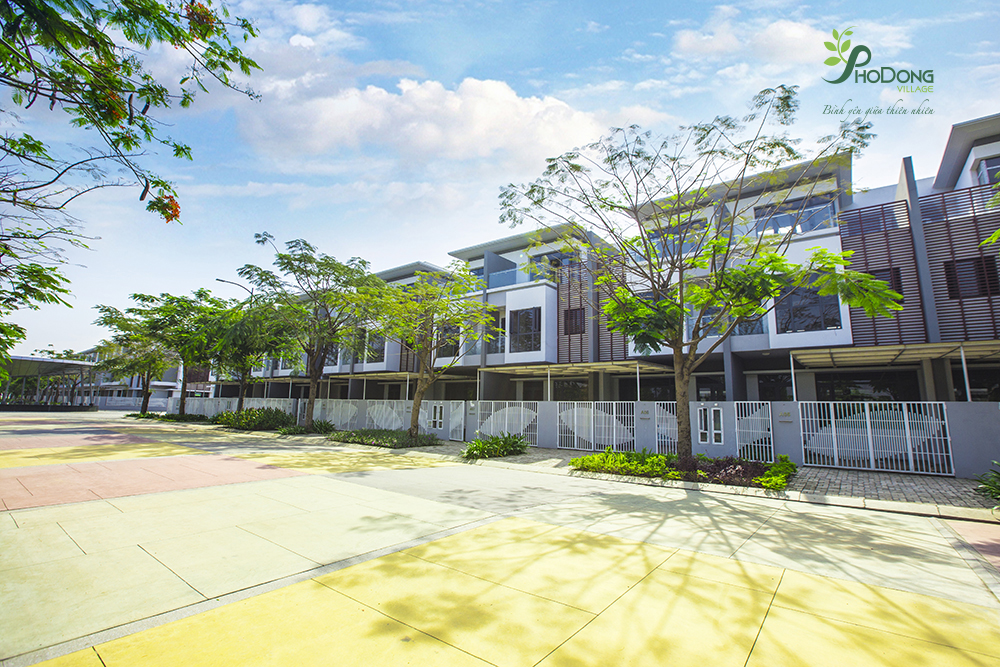 PhoDong Village is a model urban area with a total area of ​​over 41 hectares, fully equipped with utilities and high-class living space for residents.
Consulted by famous architectural designers from Surbana (Singapore), EAI (France) … PhoDong Village is a charming landmark in the heart of the crowded East with a construction density of only 24.09%. SCC developer has spent more than 3/4 of the total area to develop the landscape system with 24 internal roads decorated with more than 17 types of flowers which are cared for daily, making the urban area not only "green" but also exudes a gentle poetic look. Especially, with 03 central parks, 06 individual parks and a deliriously winding riverside-path along the 2 kilometers length of the urban area, PhoDong Village's atmosphere is always airy and fresh.
The unique and impressive point in the design concept of PhoDong Village comes from the feng shui element of the East. The East represents The Wood element, symbolizing the dragon which means supremacy and symbolizing the spring which means everything grows; the fountain plaza in the center is The Water elenment which brings wealth and prosperity to residents.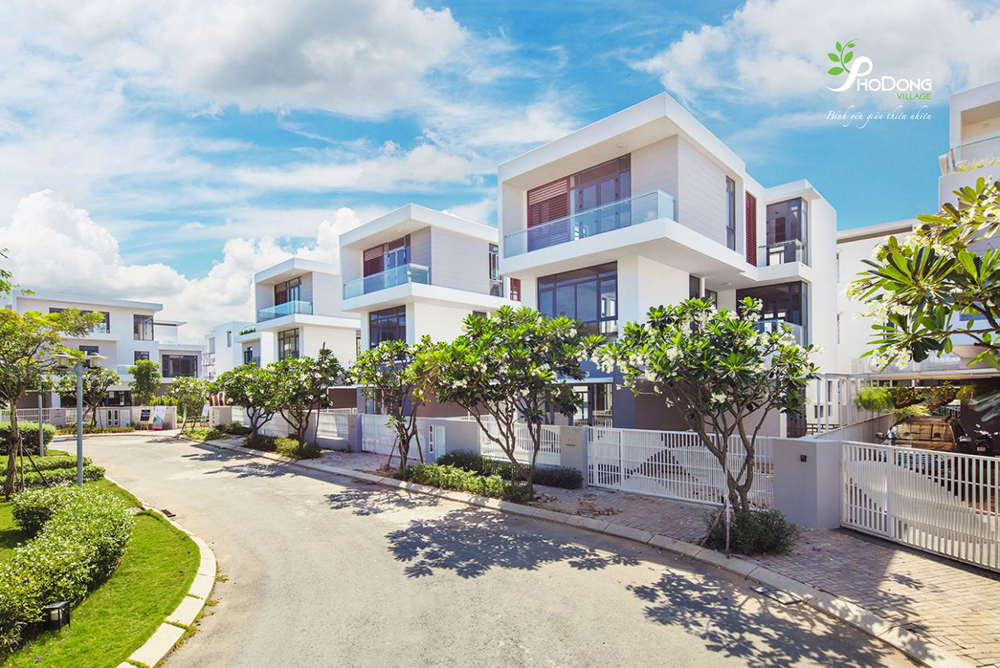 Consulted by top French and Singaporean designers, PhoDong Village is a charming landmark in the heart of the crowded East with a construction density of only 24.09%.
Not only highly appreciated in the criteria of location, design, utilities, connectivity, PhoDong Village urban area also conquered the market with many advantages worthy of being called "Model Green Urban" such as: the high-class infrastructure systems spread over 41 hectares; Professional management system; Potential price increase in the future; synchronous utility services, towards human-being values, community development; and the most special is the advantage of construction quality and handover schedule. SCC strictly commits date of hanging over the property as well as exact time of delivery a House Ownership Certificate (pink book).
To "The Green Award 2019"
According to CBRE's statistics, the real estate market currently has just over 20 LEED certified projects and 22 LOTUS certified projects in Vietnam. This is a relatively small amount compared to the total number of ongoing projects. In fact, it is not denied that many real estate projects use "green" marks as a way to attract customer interest, but many of these are not qualified, or each project sets its own standard.
The voting results were evaluated, appraised and officially announced by Nhịp Cầu Đầu Tư (The BusinessReview) Magazine on January 9, 2020 in Ho Chi Minh City. PhoDong Village was honored to receive "The Green Award 2019", which was selected with the scientific, serious and impartial evaluation of the Appraisal Council, including: Representatives of Government Authorities, reputable economist, managers of consulting companies and financial institutions in International and Vietnam Real Estate Market.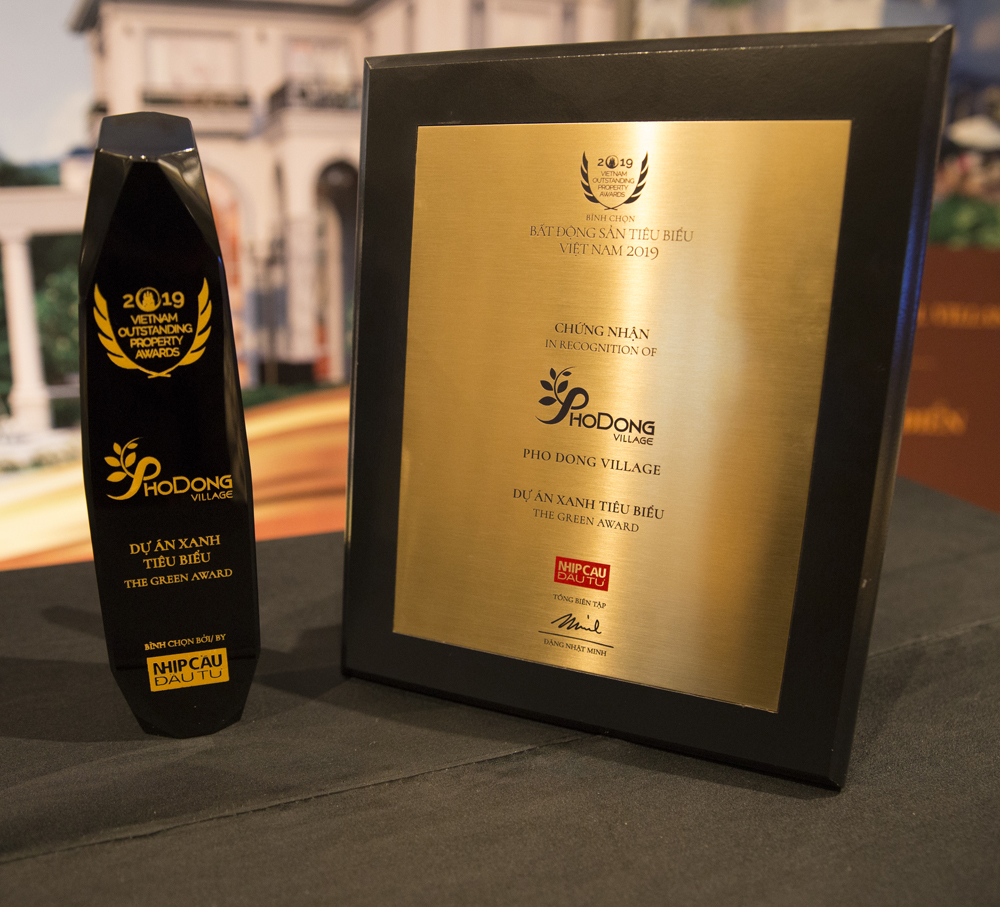 PhoDong Village provide a romantic, peaceful and fresh living space for residents as well as a convergence of high-end modern facilities for culture, services, education, commerce, entertainment, science technology.
"Green urban model" towards convenience and comfort for homeowners
Each villa at PhoDong Village is decorated with square, spacious lines showing the elegance, sophistication and optimizing the flexible layout to help the space filled with wind and natural light. Indoor space is well-ventilated with functional areas: living room, dining room, kitchen, and bedroom … interconnected and harmonious in the same overall space, many windows, close to the nature.
Moreover, towards the development of a model green urban area, PhoDong Village prioritizes the use of environmentally friendly building materials while ensuring the high-class, sustainable, convenient and comfortable for the owner.
Has the advantage of "The best is near the city center; the second is near the river; the third is near the main road" and has been carefully cared for by famous experienced architects from Surbana (Singapore) and architects by EAI group (France). PhoDong Village with contemporary architecture spread across 41 hectares was awarded a dual award on August 14, 2015 of the category "Best Housing Development (HCMC)" and "Best Housing Development (Vietnam)" in the prestigious Vietnam Property Award; and most recently "The Green Award 2019" in Vietnam Outstanding Property Awards 2019 held on January 9.
SCC's Board of Directors attends the Honor of Vietnam Outstanding Property Awards held by The BusinessReview on January 9, 2020.
Vietnam Outstanding Property Awards 2019 honor the true and sustainable values, acknowledge the dedication of businesses participating in the real estate market.
This is a prestigious and influential annual event in the business community in Vietnam. In this honoring ceremony, SCC was so proud of receiving the noble award "Best Developer 2019". In addition to the values hold in high esteem in the ceremony of real estate such as the value of architectural design, infrastructure, typical real estate businessmen, etc. then the "Green" value of real estate is also highly cherished.
SCC.