CHARITY CLUB WARM WITH LOVE RACES AGAINST TIME AND STORMS WITH THE PEOPLE IN THE CENTRAL OF VIETNAM
16/10/2020
Continuous flooding for nearly a week has caused the localities of the three provinces Thua Thien Hue, Quang Tri, and Quang Binh to suffer heavy losses in both material, wealth, mental and people. With the spirit of taking advantage of every minute, every hour, racing against time and storms, Charity Club Warm With Love urgently plans to directly support 1000 gifts to each locality.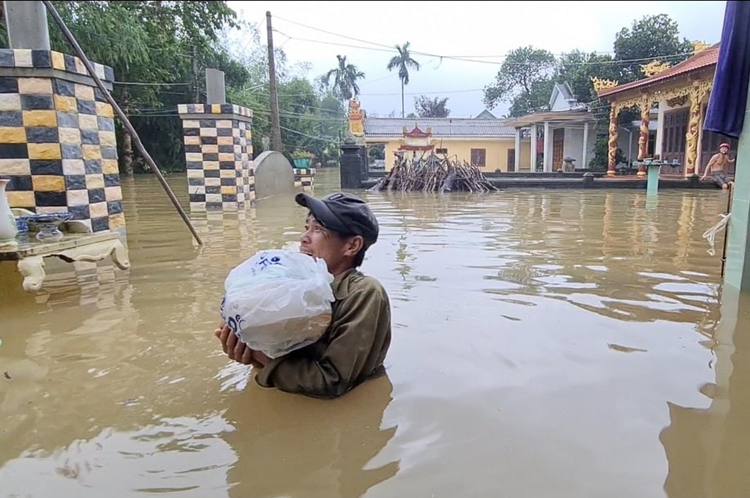 For many days of coping with floods and rains, many families no longer have food reserves, well water is cloudy, fire is not available, greatly affecting eating, drinking and living. (Photo: internet source)
Until this morning, October 15th, 2020 in Phong Dien district, Thua Thien Hue province, there was still moderate rain. Many roads in the district were flooded and divided into many sections. Highway 49B, section passing through Phong Hoa commune, Phong Binh commune was flooded many sections, with a depth of 1.5ms.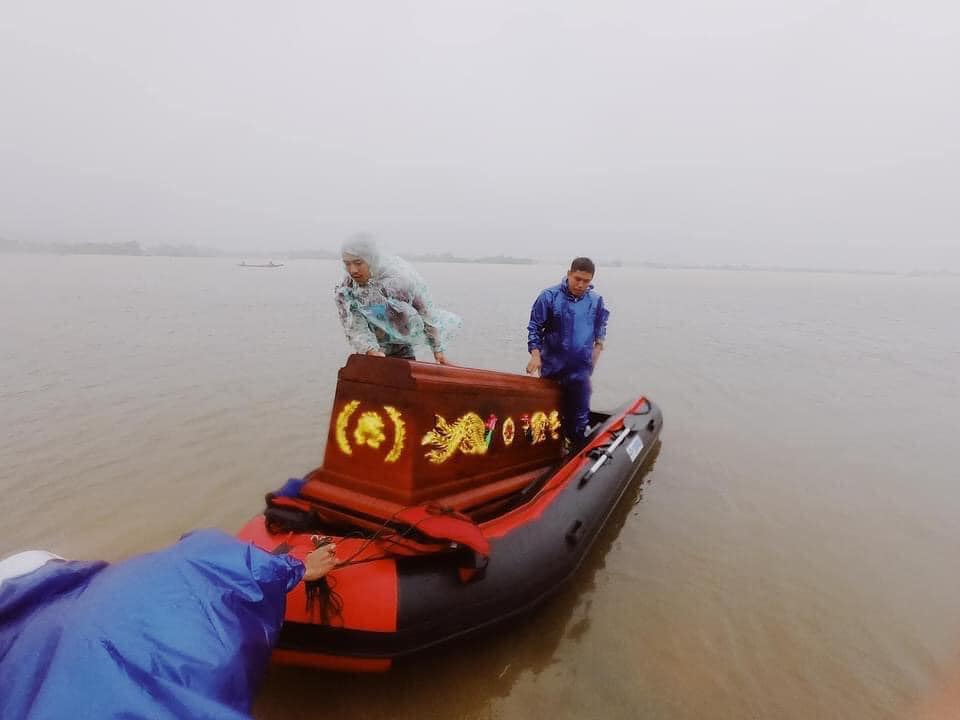 The rescue-team used a canoe to bring a coffin to the "flood navel" area of Hai Lang district to bury an old woman, causing many people to grieve. (Photo: internet source)
At that time, more than 700 officers and soldiers of the 4th Military Region and reinforcement units of the Ministry of Defense were trying their best to race against time, take advantage of every minute and every hour, organize search and rescue measures. People still lost contact in Phong Xuan commune, Phong Dien district, Thua Thien Hue province, with determination: To perform the task safely, effectively and with the highest quality.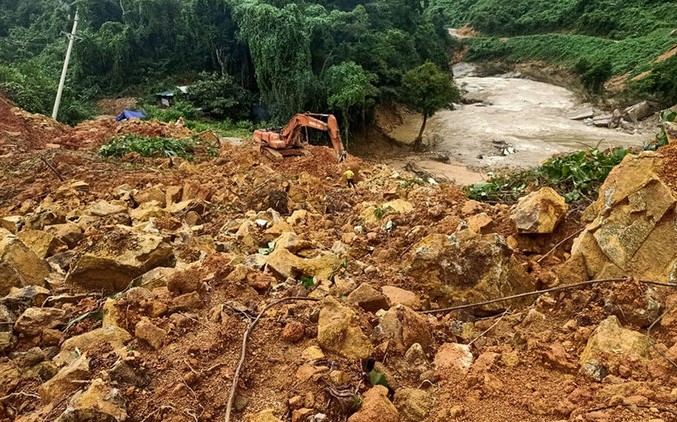 Land and rock buried works in Hydroelectric Rao Trang 3, Phong Xuan Commune, Phong Dien District. (Photo: internet source)
In the "flood navel" area of Hai Lang district, Quang Tri province, prolonged heavy rain caused widespread flooding, making tens of thousands of households suffer from separation and isolation. In addition to property damage, people here were facing a shortage of food because food and drink reserves were gradually depleted. At that time, the water on the river O Lau and the river Thach Han is falling, but it would take 1-2 days for the flood water to completely recede.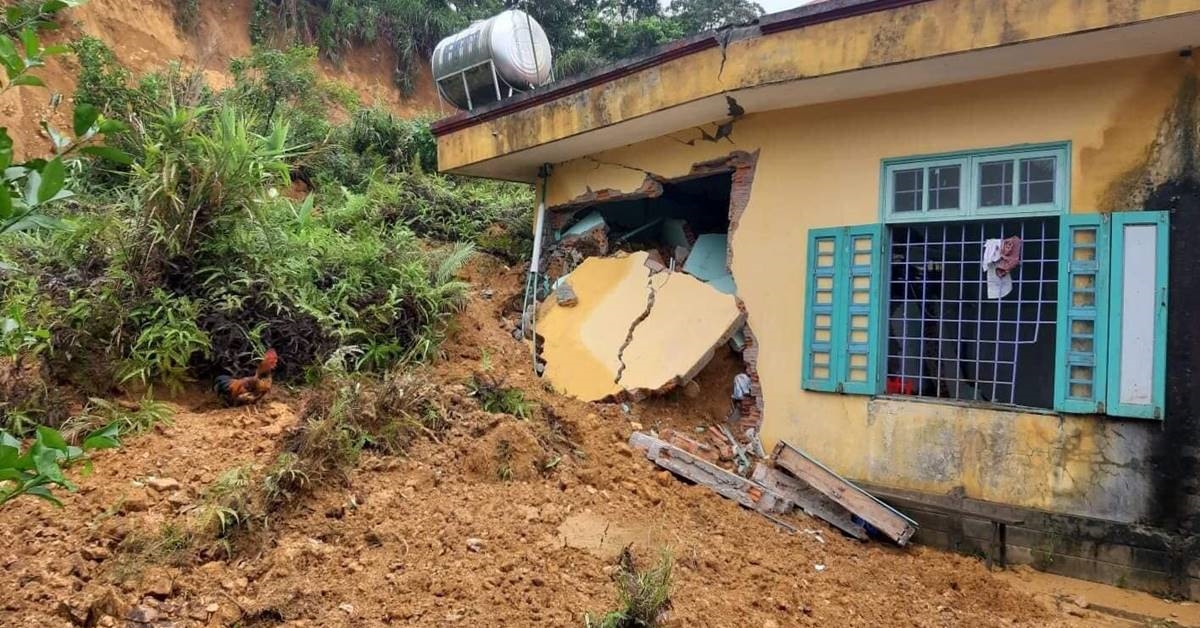 Secondary school in Quang Tri was swept by a storm, collapsed, buried in rock. (Photo: internet source)
The rain and wind blowing the floor still could not prevent 1000 gifts from Charity Club Warm With Love being transported to the "flood navel" area. It is expected that a small gift is about 320,000 VND, but it contains the feelings of sharing love and the spirit of mutual affection from following people, friends, relatives and club members to the people in flood areas. Each gift, which includes essential foods to help people survive this hardship, was purchased from Co-opFood stores, packaged and transported directly to the locality.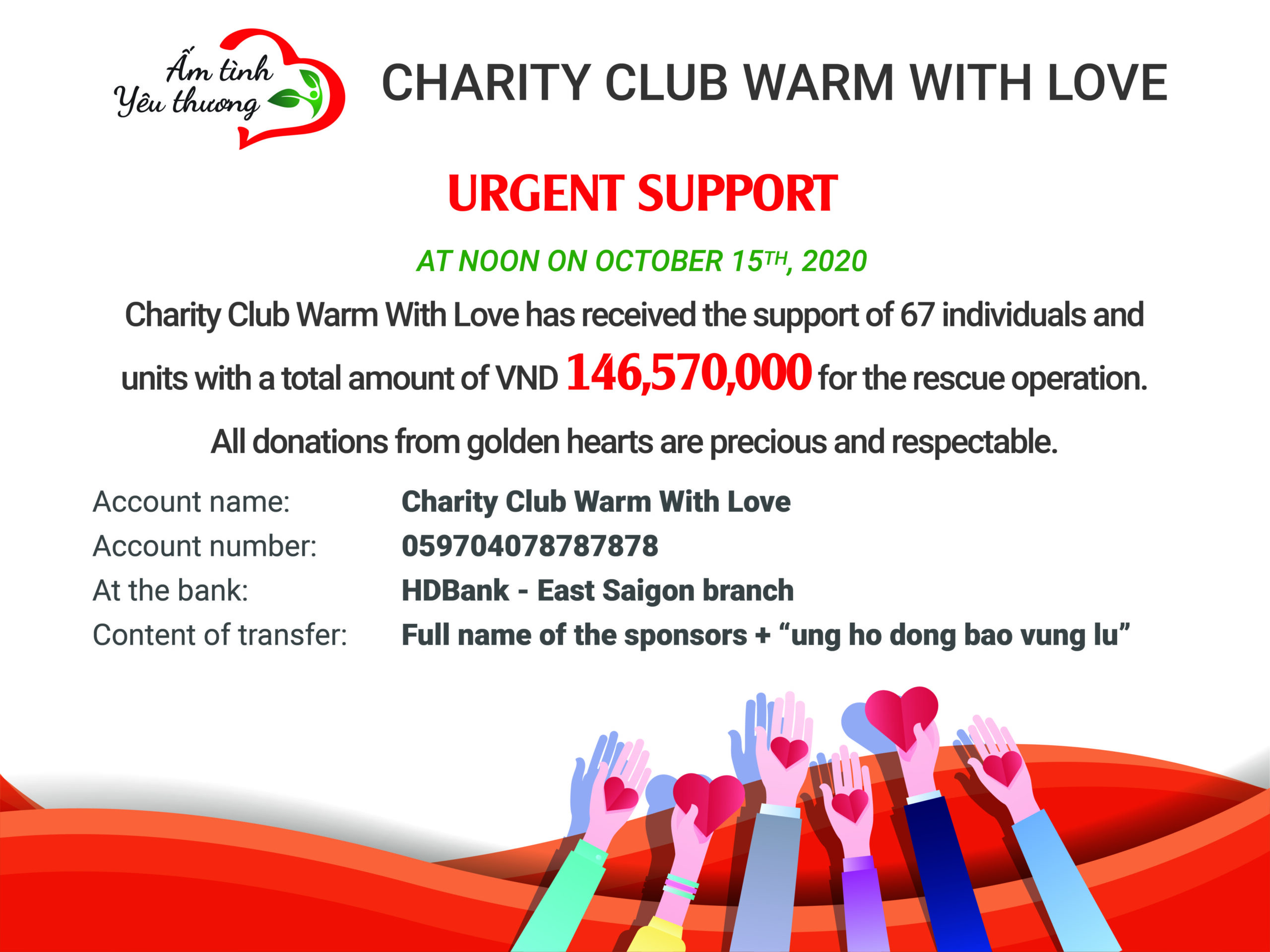 In addition, according to the report at noon on October 15th, 2020, Charity Club Warm With Love has received the support of 67 individuals and units with a total amount of VND 146,570,000 for the rescue operation to support the people in the Central region in the tribulation.
Currently, the weather in Thua Thien Hue province has reduced rainfall, which is quite favorable for functional forces to carry out the rescue of people trapped and search for missing people. The rescue force continued to be deployed urgently. The club would like to thank the following people for their golden hearts and hope to receive more and more contributions from the community during this relief trip so that the club can expand its relief activities to help more and more people.
Charity Club Warm With Love.