20,000 CHARITY MEALS FROM THE CLUB WARM WITH LOVE HAVE BEEN DISTRIBUTED TO THE POOR IN THE ORDER ACCORDING TO THE DIRECTIVE 16th AND 12th OF THE WHOLE CITY
15/10/2021
Full 20,000 meals of gratitude were given to the poor, needy households, and poor workers who were severely affected during the Covid-19 epidemic season by the Charity Club Warm With Love, especially people who were living in a state of widespread blockade and distance from the City under the enhanced Directive 16th.
With a heart of kindness, along with the enthusiasm and consensus of everyone, the Charity Club Warm With Love has had the strength to implement and contribute, for every 1,000 charity meals being given out, there would be more donations and support from sponsors and benefactors sent to the club to continue making the next 1,000 charity meals.
As of this afternoon on August 5th, the club has carried out 23 routes of the program "Meal of Gratitude" and distributed 20,000 charity meals to poor people in the quarantined and isolated areas.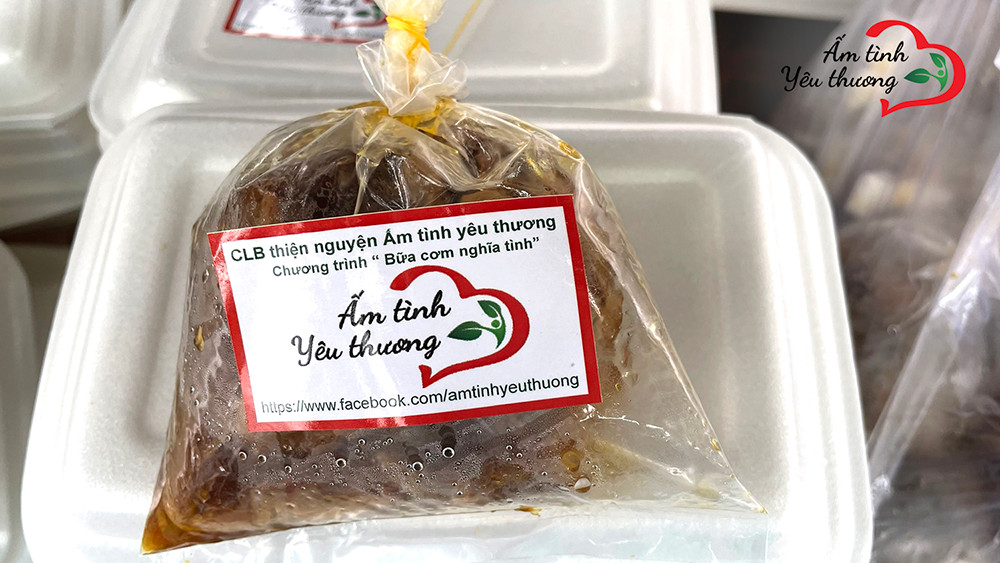 In the early days of August 2021, the situation of social distancing continued to be tightened, many poor people in locked and isolated areas continued to struggle with daily meals. Mr. Nguyen Phuoc Hung, Chairman of the People's Council of Thu Duc City, said that the Covid-19 epidemic in Thu Duc City was still complicated. Thu Duc city was currently ranked 5th out of 22 districts in Ho Chi Minh City in terms of the number of Covid-19 cases and blockade points.
Therefore, despite many difficulties in moving, the Charity Club Warm With Love still continued to bring the next 1,000 meals of gratitude to help workers and the poor in Tan Phu Ward, Thu Duc City.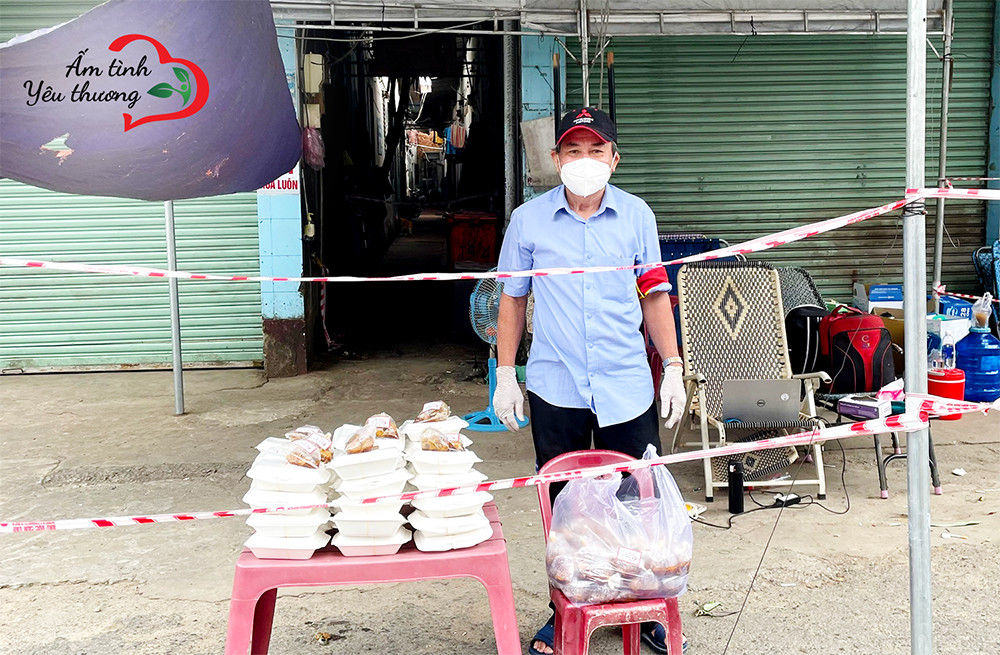 Specifically, 1,000 meal servings had been distributed to households in isolated areas, the blockade area in Quarter 1 was 150 parts, Quarter 2 was 300 parts, Quarter 3 was 150 parts, Quarter 5 was 370 parts, Quarter 6 was 70 parts. In addition, the club also did not forget to take care of the health of medical staff, police officers and militiamen who were carrying out epidemic prevention work, the club donated 164 cooked food portions to the workforce in Tan Phu's epidemic prevention and control points. In total, the Charity Club Warm With Love has supported 464 cooked foods for the epidemic prevention workforce.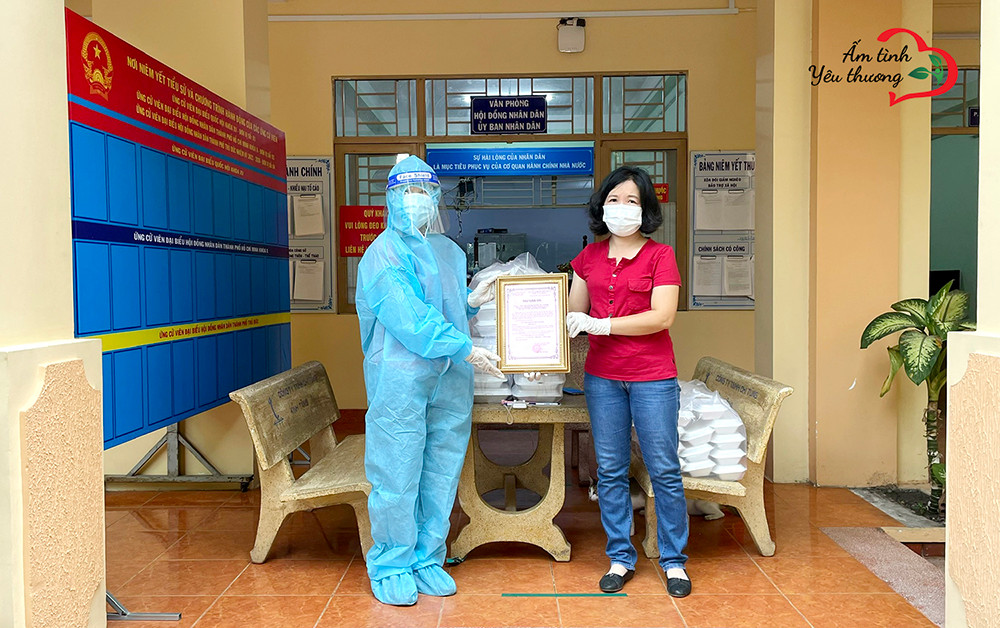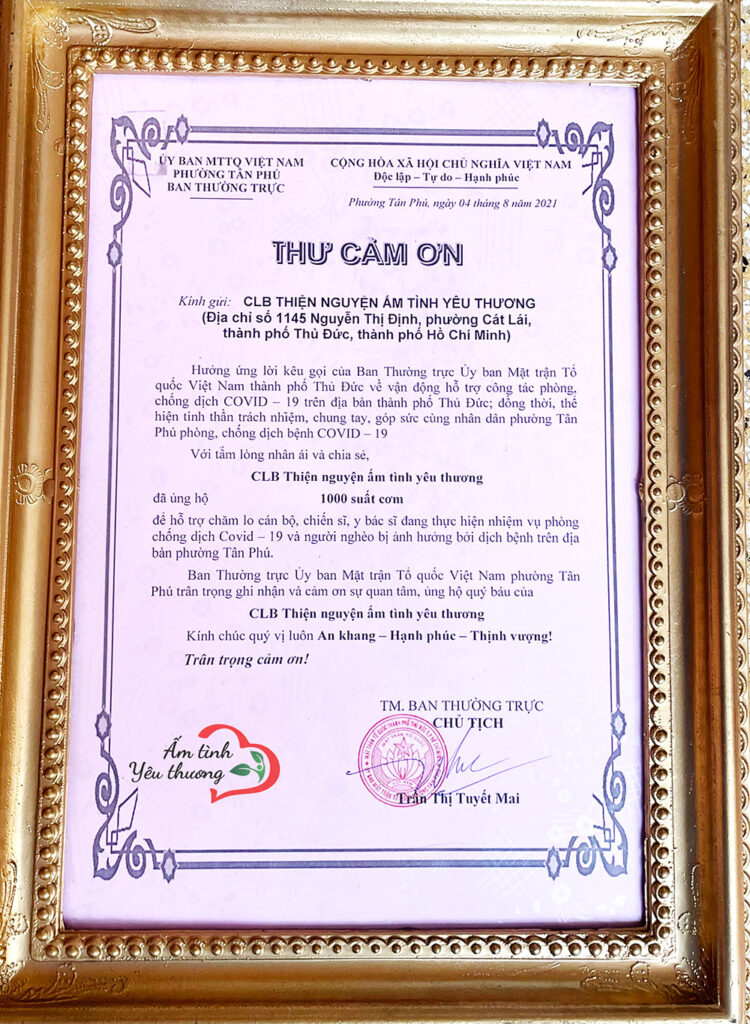 Although the city has continuously implemented many measures to tighten social distance, making it difficult to move, but thanks to the cooperation of benefactors and sponsors, the program "Meal of Gratitude" has been implemented, currently brings quality charity meals to help poor people overcome the immediate difficulties and contribute to spreading love, bringing faith in a bright tomorrow to the community.
With the current situation, there have been still many people who are in dire need of support, the Charity Club Warm With Love would like to continue to call for sponsors and benefactors to continue to contribute, spread love, all donations please transfer to:
(transfer info)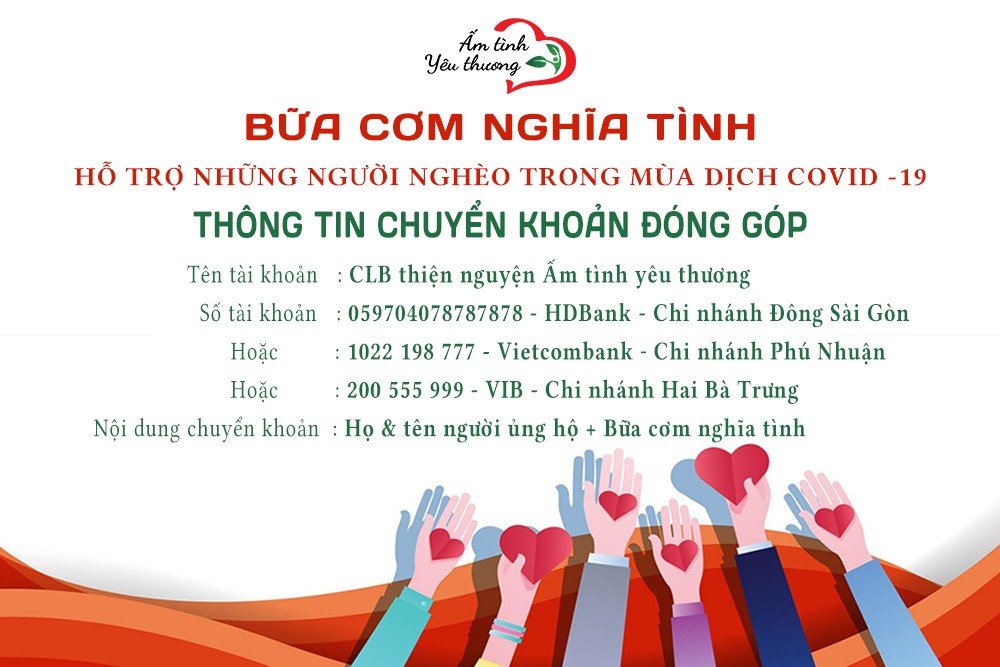 CLB thiện nguyện Ấm Tình Yêu Thương.