16,250 CHARITY MEALS FROM THE CLUB WARM WITH LOVE HAVE BEEN DISTRIBUTED TO THE POOR IN THE ORDER ACCORDING TO THE DIRECTIVE 16th AND 12th OF THE WHOLE CITY
15/10/2021
On the afternoon of Sunday, July 25th, 2021, the Charity Club Warm With Love continued to bring 1,000 meals of gratitude to the poor in the blockade and isolation area of Tan Kien commune, Binh Chanh district.
So, Ho Chi Minh City continued to implement the distance according to Directive 16th, even more strict with the reinforcement of Directive 12th.
The area of Binh Chanh district is home to many difficult households in the area such as street vendors, garbage collection, technology vehicles, mobile lottery ticket sales, workers renting motels, etc. Those who have been in difficult circumstances for a long time needing support from charity food distribution points are even more miserable because these points have to be closed for epidemic prevention, temporarily not serving on-site. As for the people who have "no home", what will happen to them in the middle of the epidemic season with no jobs, no rice to cook?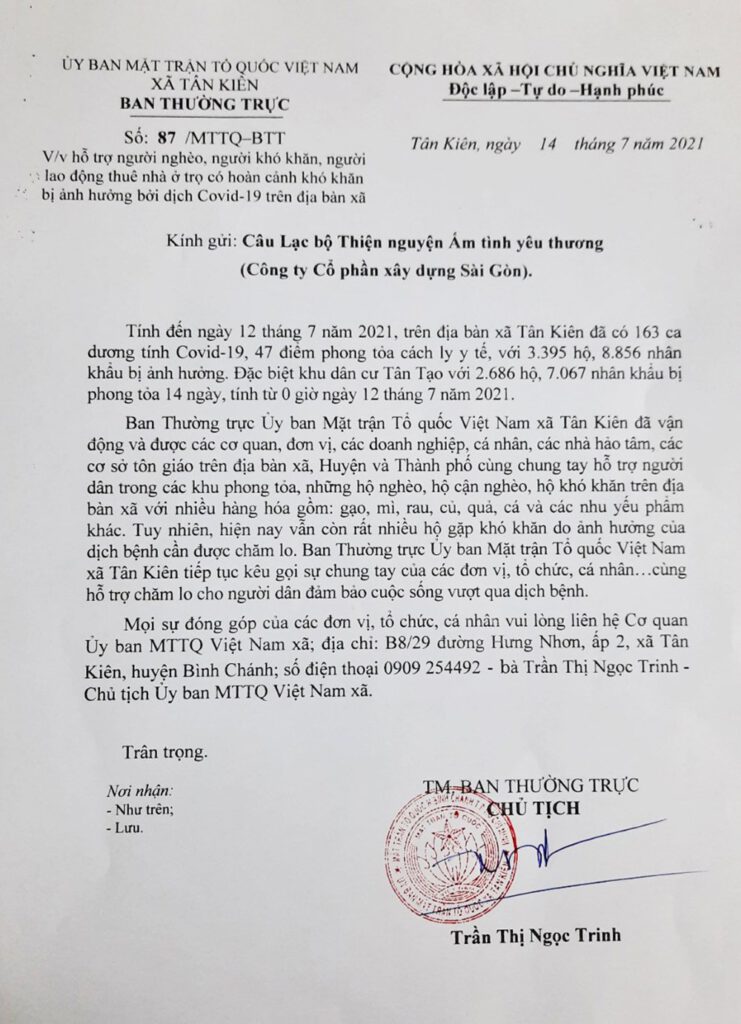 According to statistics of the People's Committee of Tan Kien commune, Binh Chanh district, as of July 22nd, there were 495 positive cases in the community, 76 quarantine points, with 3,923 households and 10,120 people affected.
The Charity Club Warm With Love quickly reviewed and approved the 18th route of the "Meal of Gratitude" program on July 25th, 2021 to spread love and support 1,000 charity meals for the poor in the blockade area at the call of the Vietnam Fatherland Front Committee in Tan Kien commune, Binh Chanh district.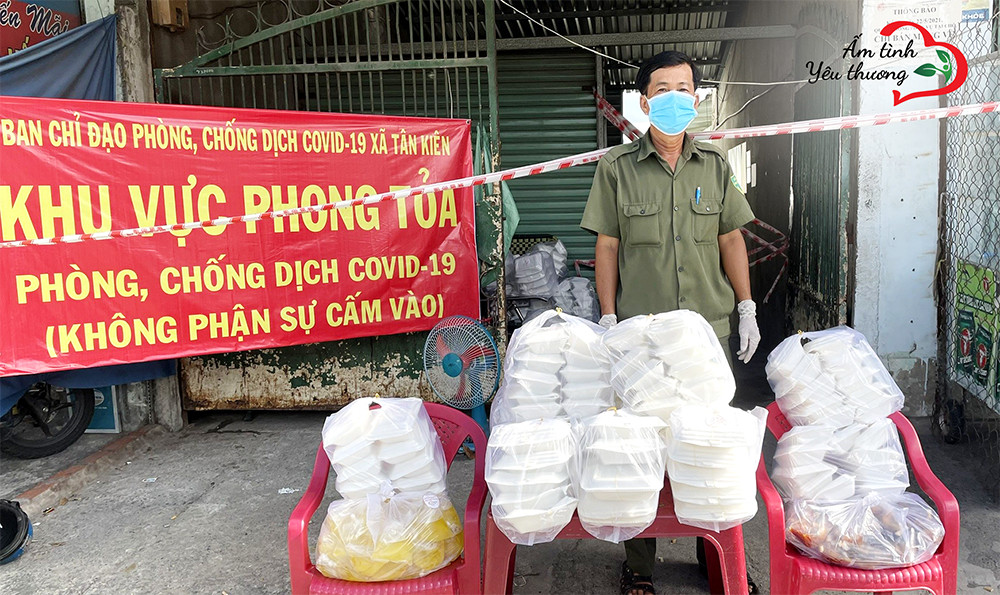 Specifically, 1,000 servings of charity meals were given to disadvantaged households and poor workers in Hamlet 1: 141 parts; Hamlet 2: 327 parts; Hamlet 3: 215 parts; Hamlet 4: 317 parts.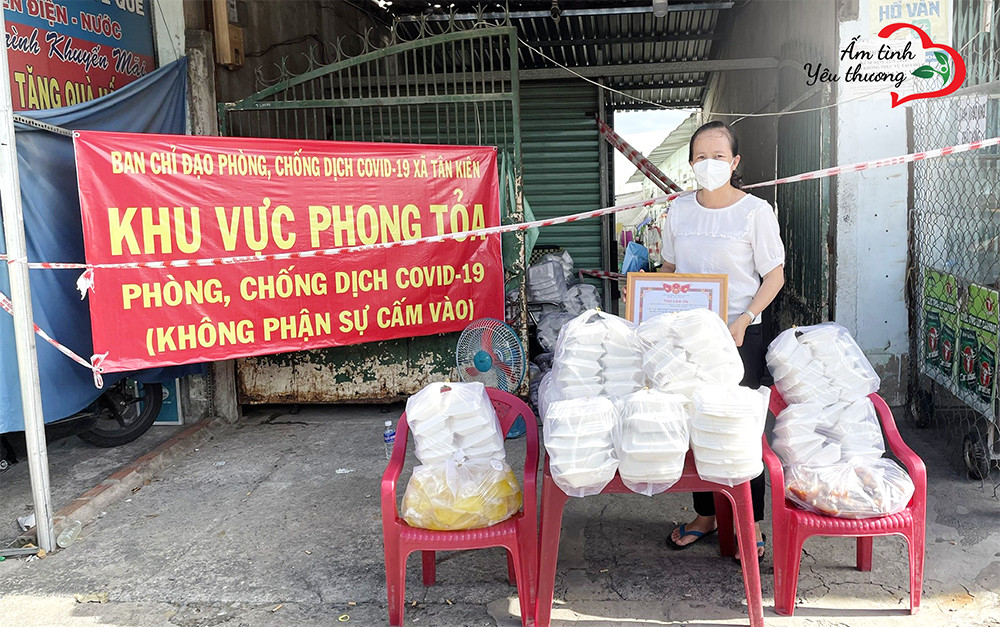 "One piece when hungry is equal to one packet when full", with each serving of charity meal consisting of white rice, savory dishes and soup, vegetables, up to now, the Charity Love Club has distributed 16,250 charity meals with sufficient quality and quantity to help and support the poor who have been severely affected by the Covid-19 epidemic in the isolation and blockade area, during the nationwide quarantine period under Directive 16th and most recently, the enhancement of Directive 12th.
That was also the motivation for the club members to be proud and honored to be the bridge to help spread the love, share the noble meaning of the golden hearts to everyone.
In order to accompany the Charity Club Warm With Love to replicate meaningful and very urgent "Meals of Gratitude" in the current situation of city-wide distancing according to the current Directive 16th, all donations should be sent to:
(transfer info)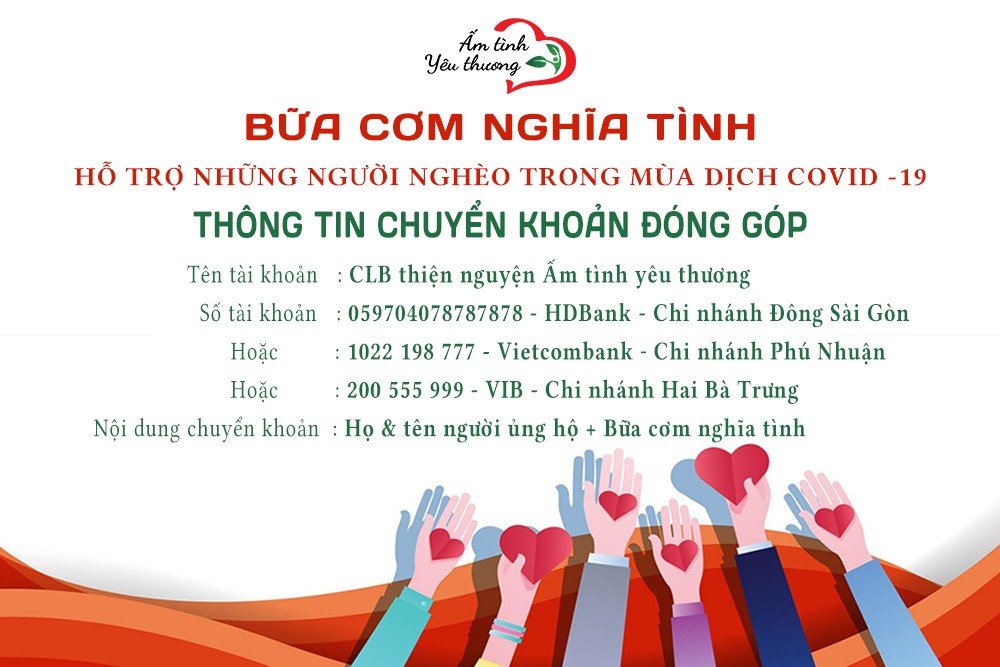 The Charity Club Warm With Love.